Filipino Pixar animation artist Edward Niebert III has rendered Disney characters in Filipino clothes.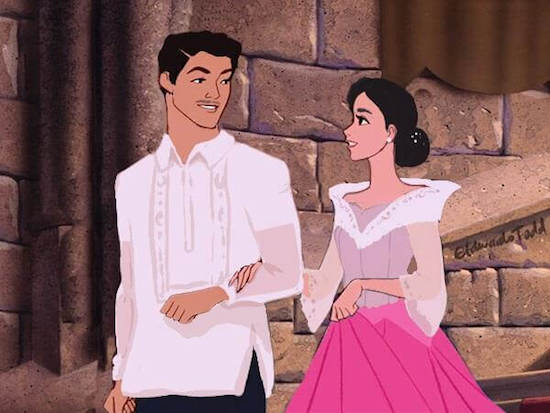 The artist also known as Edwardo Todd remade 9 Disney princesses and a prince donning Filipino traditional attire to celebrate the "Buwan ng Wika (Filipino language month)" in the Philippines.
Niebert posted on Facebook his re-imagined 10 Disney characters:
Mulan in katipunero uniform (Filipino wartime soldiers)
Ariel in a Filipiniana inspired wedding dress
Pocahontas as an Ifugao woman
Sleeping Beauty's Filipino Prinsipe Felipe and Prinsesa Auring
Belle, in baro't saya inspired by Fernando Amorsolo paintings
Tiana of T'boli descent
Snowhite in Filipino terno
Cinderella in a ballgown type Filipiniana
Jasmine as a Muslim princess
"I chose to make them Pinoy because I feel like our people are greatly underrepresented, especially in the Disney movies, as we Pinoys now have a much bigger role worldwide," the Pixar Animation Studios artist told ABSCBN.
Neibert adds, "Pinays possess some of the most striking qualities of Disney Princesses — love for their family, positive attitude, and a certain reservedness a la 'Dalagang Filipina.'"
"I think the qualities of these Disney Princesses as a whole is what makes it truly Pinoy," he said. "I simply clothed them, but what makes them truly Filipino is how relevant the lessons they teach us today, towards becoming better individuals."
Niebert's Disney interpretations have been garnering thousands of netizen likes and shares.
The post Pixar artist remakes Disney princesses in Filipino clothes appeared first on Good News Pilipinas.