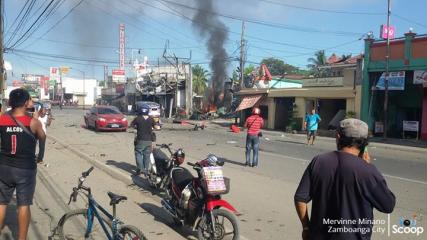 Two killed in Zamboanga City explosion. At least two people were killed while 52 were injured following an explosion near a bus terminal in Zamboanga City Friday afternoon. YouScoop/Mervinne Minano
President Benigno Aquino III arrived Sunday morning in Zamboanga City to check the security there after the deadly car blast last friday that left two people dead and hurt 52 others.
The airplane carrying the President landed at 10:30 a.m. at the Edwin Andrews Air Base in Zamboanga City, according to a report on dzBB by Jayvee Francisco.
According to the  report, Interior Secretary Manuel Roxas II and Social Welfare Secretary Dinky Soliman were with the President upon arrival in the city.
Aquino will proceed to the blast site, the report said, adding that the President is being briefed by local authorities regarding findings of the investigation on the attack.
The President is expected to pay his respects to the two poeple killed in the explosion in front of the Guiwan bus terminal and Red Palm Inn last Friday.
He is also expected to visit the 52 people who were injured.
On Saturday morning, police said the death toll had risen to two, with 52 wounded, and that the explosives used in the incident was a car bomb.
Security was tightened in the city after the bombing, with police and military forces conducting checkpoints and paneling operations.
Full alert
Philippine National Police Region 10 OIC director Chief Supt. Agrimero Cruz Jr on Saturday said he issued a directive to all police units to observe full alert status to intensify security measures.
In a statement, he also said 24/7 checkpoint operations are ongoing, fully using Explosive Ordnance Disposal teams and K9 units at bus terminals.
Moreover, he said maximum police visibility in all places of convergence are being ensured and intelligence monitoring, in coordination with the Armed Forces of the Philippines, is being done.
He also advised the public not to panic and report any suspicious individuals in all areas in the city to the nearest police station or post. — Kathryn Mae P. Tubadeza/LBG, GMA News