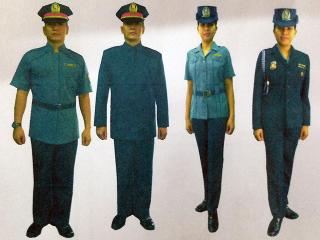 PNP designs new uniforms for its personnel. Five designers helped the PNP Directorate for Research and Development in creating these proposed police uniforms which will replace the current ones being worn by PNP personnel in various fields. Ian Cruz
After 17 years, the Philippine National Police (PNP) will have new designs for its uniforms, which would be distributed before the year ends.
"Hopefully lang matapos ang research pero depende pa rin sa availability sa fabric, manufacturing and distribution… In six months siguro may bago ng uniform. Siguro before December," Gil Hitosis, police director for PNP's research and development, told GMA News Online in a phone interview on Thursday.
"[The uniform] should answer the needs of the police officer. We weigh and assess the design based on comfort, protection and better aesthetic," he noted.
The new designs will be unveiled in "Cop Walk… PNP on the Ramp" an event organized by the PNP which aims to showcase the evolution and future design of police uniforms in the country.
"Cop Walk" will be staged at Camp Crame's Multipurpose Hall on Thursday evening, Ian Cruz reported on GMA News TV's "Balitanghali."
In a statement, the PNP said the show "will feature creations of Filipino fashion icons like Rene Salud, Eddie Baddeo and other independent designers who will help provide the PNP with essential inputs in coming up with the best quality and comfortable PNP uniform and paraphernalia by making use of the creativity of students from fashion designer schools and manufacturers of suppliers of police uniforms."
"The show is among the many moves being undertaken by the PNP leadership in response to results of an internal survey and a strong clamour from the rank-and-file policemen for a change in the police uniform," it added.
The last time that the police uniform had an overhaul was in 1999, back when Senator Panfilo Lacson was still the PNP chief, the television report said.
PNP explained that the new design for police uniforms "will entail no additional expense on the part of the police personnel" as policemen receive a Replacement Clothing Allowance (RCA) of P14,000.00 every three years. — RSJ, GMA News