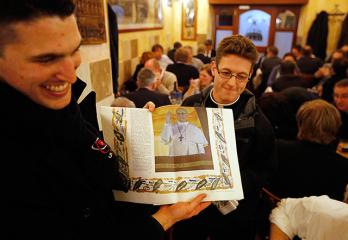 Catholics jubillant over election of Pope Francis . Seminarians from Australia show a special edition of the Vatican newspaper Osservatore Romano to diners from Ireland at a restaurant in Rome on Thursday, March 14. Jorge Mario Bergoglio of Argentina was elected as the new leader of the troubled Roman Catholic Church on Wednesday, taking the name Francis and becoming the first non-European pontiff in nearly 1,300 years. Reuters/Chris Helgren
The election of Jorge Mario Bergoglio of Argentina as the new leader of the Roman Catholic Church has surprised a Jesuit priest, saying Jesuits are commonly "servants, and not people in authority."
In a panel discussion aired on GMA News TV's "News To Go," anchor Kara David cited a post on the Twitter account of Catholic News Services quoting Vatican spokesman Father Federico Lombardi, also a Jesuit, as saying he was "shocked" with the election of a Jesuit priest as the new pope.
"Personally, I'm a bit shocked to have a Jesuit pope. Jesuits think of themselves as servants, and not authorities in Church," according to Lombardi's statement.
"We, Jesuits, have never considered ourselves better than others. [I'm] glad he chose the name of St. Francis and not Ignatius," it added.
For his part, Father Joe Quilongquilong, a Filipino Jesuit, and assistant professor of spirituality at the Ateneo de Manila University, said Jesuits are more accustomed to being a follower.
"Our identity and our spirituality is to obey and serve the Church," he said during the panel discussion.
"But now, as universal pastor and shepherd of the Church, iyon [ang] tinitingnan namin ngayon. Magandang dimension ngayon na as a Jesuit we are now obeying a Jesuit pope," he added.
Saint Francis
Father Quilongquilong, said Bergoglio may have taken the name Francis instead of Ignatius to avoid being "self-referential."
St. Ignatius of Loyola is the founder of the Society of Jesus (Jesuit congregation).
"Saint Francis is a symbol, an icon of humility, poverty, and simplicity. So kung halimbawa ang pinili [ng bagong papa ang pangalang] Ignatius, napaka-self referential naman," he said.
"Ayaw ni Bergoglio na self-referential, very consistent in a way," he added.
'Special gift'
The Philippine Province of the Society of Jesus welcomed Bergoglio's election, the first ever Jesuit pope, as the new leader of the Roman Catholic Church.
"Let us join in prayer to thank God that we have been given a successor to Pope Benedict XVI and beg for Pope Francis all the graces he needs to carry this new mission from the Lord," Jesuit Provincial of the Philippines Fr. Jose Magadia, SJ, said in a statement Thursday.
"That Pope Francis comes from the Society of Jesus and shares with us the spirituality of St. Ignatius is a special gift, but of secondary importance to his own deep commitment to the Lord," he added.
Bergoglio, 76, was elected the new leader of the world's 1.2 billion Catholics early Thursday (Philippine time), and decided to be the first pontiff in Catholic history to take the name Francis.
Magadia said the Jesuits in the Philippines commends the cardinals who elected the pope for "having chosen a man with long experience leading God's people in Argentina, with a heart very much concerned for the needs of the poor and the disadvantaged, and whose manner of life is touched by great simplicity and faith." — Amanda Fernandez /LBG, GMA News