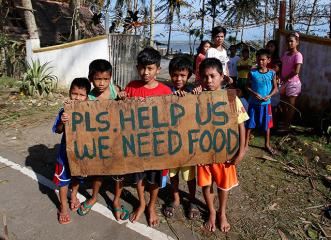 Ruby victims in Samar ask for food, water . Children display a placard asking for food from motorists in Dolores, Samar on Monday, December 8, after Typhoon Ruby (Hagupit) battered the island on December 6. At least 21 people were reported dead, many of them drowned as flood waters rose in Borongan, the main town in Eastern Samar, where Ruby made first landfall, the Philippine National Red Cross said on Monday. Authorities have evacuated more than a million people as the powerful typhoon approached the country from the Pacific, fearing a repeat of a super storm last year that left more than 7,000 dead or missing. Reuters/Erik De Castro
International aid agencies Red Crescent Movement and International Red Cross are now moving volunteers to provide aid to areas hit by Typhoon Ruby (Hagupit), especially to remote areas that have yet to recover from Typhoon Yolanda (Haiyan).
"The typhoon hit areas where poverty and vulnerability levels are very high, in particular within communities suffering the consequences of protracted armed conflicts," said Paschal Mauchle, head of delegation of the International Committee of the Red Cross (ICRC) in the Philippines in a statement released on Tuesday.
Evacuation efforts and warnings conducted with the Philippine government helped minimize the number of casualties in "the third consecutive year that the Philippines has been hit by a major typhoon," said Kari Isomaa, head of delegation of the International Federation of Red Cross and Red Crescent Societies in the Philippines.
Pre-positioned food and non-food relief stocks have also helped at least 75,000 families in inland and coastal communities. Those in evacuation centers received on-site meals and relief items from Red Cross volunteers.
Additional aid will be provided by both humanitarian agencies after their assessment teams verify the damage dealt to Samar, Southern Luzon, and other typhoon-hit areas.
"At this stage, we don't know the full extent of the damage caused by Typhoon Hagupit. It will linger over the Philippines and we can expect incessant rains to continue for the next few days," said Richard Gordon, Chairman of the Philippine Red Cross.
Mauchle added, "It is too early to give an accurate assessment of overall needs. Food, clean water, emergency shelter materials and primary health care could be among the priorities."