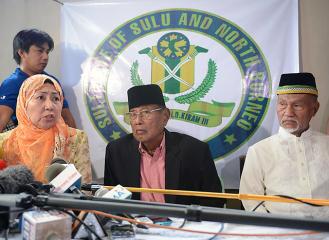 Sulu sultan scoffs at PNoy's warning, remains defiant. Sitti Krishna Idjirami (left) sister of Jamalul Kiram III (center), the 74-year-old Sultan of Sulu, and Crown Prince Bantillan Kiram (right) speak at a press conference in Manila on Tuesday. President Benigno Aquino III has warned Jamalul Kiram III that he would face the 'full force of the law' if he did not withdraw his gunmen from Sabah, Malaysia, but the elderly ruler remained defiant. AFP/Ted Aljibe
Proper recognition as rightful owners of Sabah and a stop to human rights abuses allegedly committed on some of the Sultan's followers are among the factors that could lead to the resolution of the ongoing standoff there, according to the wife of Sulu Sultan Jamalul Kiram III.
"The Sultanate of Sulu wanted only the recognition that the property belongs to the Sultanate of Sulu, number one," said Princess Fatima Kiram, who is also the Sultan's spokesperson, in an interview on GMA News TV's "News to Go" on Wednesday.
Hundreds of Kiram's followers, some of them reportedly armed, remained holed up in Sabah even after the Tuesday midnight deadline set by Malaysia lapsed and despite an appeal from President Benigno Aquino III for them to leave the place.
During the interview, Fatima expressed the desire of their followers to be treated "like other Muslim brothers" and to benefit from the "fruits" of the land.
"For how many years, centuries na nga yata, na pinakikinabangan nila itong lupain na ito, at ang fruit ng aming lupain ay hindi man lang maibahagi sa tunay na nagmamay-ari," Fatima said.
Asked to clarify what she meant by "fruit," Fatima mentioned that it "doesn't necessarily mean financial settlement outright." What it is, according to her, is having a share in the income of the land.
She said the annual rent of 5,300 ringgit—or almost P77,000—paid by the Malaysian government to the Sultanate of Sulu is "not equitable."
Human rights violations?
Fatima also said the right to settle in Sabah by the people of the Sultanate should be taken into consideration, citing human rights violations that could have further fueled the outrage of the men over territory issue.
"Pangatlo, ang karapatan na mag-settle down peacefully ng aming mga tao doon sa Sabah, Malaysia, na hindi sila ide-deport inhumanely," she said.
"Maraming mga karapatang pantao ang nalalabag ng Malaysia in terms of deportation ng ating mga tao doon na, sa aking opinyon, ito din ang isa sa mga nag-outrage o nagpabigay init ng ulo sa aming mga tauhan na pumunta doon sa Sabah na i-declare na ang Sabah ay amin," she said.
Sultan Kiram had earlier expressed his willingness to talk to the Philippine and Malaysian governments regarding the standoff. However, he also stressed that their claim to Sabah is non-negotiable.
Meanwhile, asked during the interview regarding current developments among his followers in Sabah, the Sultan said the men are fine, and that they can weather factors such as hunger and thirst there.
"Sa tubig walang problema. Kung 'di sila makakain within three days, four days, ganun, kaya pa 'yan dahil sanay sila sa fasting," he said.
Dialogue
He also said both the Philippine and Malaysian governments have yet to initiate a dialogue with him.
In a separate interview on "News to Go," Foreign Affairs spokesperson Raul Hernandez said the agency is in constant coordination with the Malaysian government.
"Patuloy ang pakikipag-usap ng Pilipinas at Malaysian governments. In fact, almost everyday, twice or thrice a day, nakikipag-usap si [DFA Sec. Albert del Rosario] sa kanyang counterpart, si [Malaysian Foreign Minister Anifah Aman]," he said.
Hernandez said for how long the standoff will last depends on Kiram. "So basically siya ang may responsibility to make the decision kung hanggang kailan ang standoff na ito magpapatuloy."
He noted that the government, as much as possible, wants the standoff to be over, and that the safety of the men is their utmost priority. — Gian Geronimo/KBK, GMA News