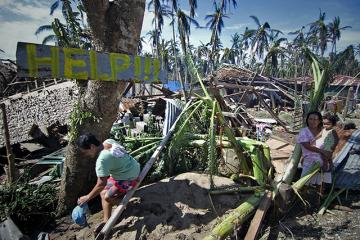 Samar residents start picking up pieces after Ruby's wrath. Residents stand in front of destroyed houses in Borongan, Eastern Samar on Monday, December 8, a day after Typhoon Ruby (Hagupit) hit the province on December 6. Millions in the NCR hunkered down as a major storm churned toward the megacity, after killing at least 21 people and destroying thousands of homes on remote islands. Soldiers and aid workers rushed to reach devastated coastal villages on Samar island, where Typhoon Hagupit crashed in from the Pacific Ocean last weekend with winds of 210 kms an hour. AFP/Vincent Go
The National Disaster Risk Reduction and Management Council on Tuesday said the number of people affected by Typhoon Ruby (Hagupit) had breached the two-million mark while damage breached the P1-billion mark.
The NDRRMC also overhauled its list of fatalities from Ruby after finding the two in the initial list did not die as a direct result of the cyclone.
In its
6 a.m. update
, the NDRRMC said there are now three fatalities who it said have been confirmed and validated. These include:
Jimmy Cardente, 14, of Cebu, who died from electrocution
Princess Abelgas, 2 months old, Calbayog, Samar, hit by falling tree
Sunny Recto, of Naval in Biliran, hit by debris
It said the two earlier listed as fatalities—Thea Rojo and Ernesto Baylon—were "not directly related to Typhoon Ruby."
During a media briefing Tuesday, NDRRMC executive director Alexander Pama also said
eight bodies had been found
, but authorities will still verify if their deaths were directly related to Ruby.
Pama said they are following a protocol where they would list fatalities after they are "confirmed, validated and verified."
He added they are wary of including in the list of fatalities those who died during Ruby's onslaught but because of different causes like preexisting medical conditions.
At least 45 people were reported injured. Of these, nine are still subject to validation by the Department of Health.
Other effects
The NDRRMC said Ruby affected 456,386 families or 2,086,562 people.
Of these, 371,846 families or 1,699,041 people are being served inside and outside evacuation centers.
Power outages
At least 20 provinces in six regions are still experiencing power outages due to Ruby.
Power has been restored in affected areas in Romblon, Masbate, Bohol, and in San Fernando, Gainza, Camaligan, Pasacao, Pamplona and Ragay in Camarines Sur.
Cellphone networks are presently down in parts of Leyte and Eastern Samar.
Roads, bridges
Three road sections are closed to traffic in Bicol and Eastern Visayas, due to flooding, landslides and fallen trees.
Buenavista Bridge in Quezon province is not passable due to high water levels.
Floods
At least 16 flooded areas were reported in Quezon, Laguna and Marinduque.
Some 84 houses were destroyed and 11 more damaged.
Damage
Damage to property was estimated at P1,040,396,587, covering agricultural damage alone in Bicol and Western and Eastern Visayas.
State of calamity
The NDRRMC said that as of Tuesday morning, San Pablo City in Laguna was the latest to declare a state of calamity, passing a resolution to the effect on Dec. 8. 
—Joel Locsin/KG, GMA News