The featured women entrepreneurs are Vivian Sarabia, Corazon Ong, Elizabeth Lahoz, Evelyn Yap, Mary Joy Abaquin, Mylene Abiva, Delby Bragais, Stella Sy, Michelle Reyes, Florence Ko, Donna Jiao, Myrna Yao, Gianna Montinola, Catherine Delantar, Jean Uvero, Josie See, Tess Ngan Tian, Willen Ma, Cathy Turvill, Anya Lim, Ines Fernandez, Anne Gonzalez, Rebecca Bucad, Rossana Llenado, Roxanne Farillas, Yoling Sevilla, Rowie Matti, Michelle Fontelera, Sherill Quintana, Jasmin Basuil, and Dulzzi Gutierrez with Presidential Adviser Joey Concepcion, Trade Secretary Ramon Lopez, and Vice President Leni Robredo.
March is women's month, but it is not too late to celebrate the success of women entrepreneurs!
Last Tuesday, Go Negosyo launched the special edition of the Go Negosyo: Inspiring Stories of Women Entrepreneurs. The first edition of the book was published in 2009 and has become one of the bestsellers in book stores. For the special edition, we have 25 new stories of champion 'womenpreneurs'.
Their stories are additional inspirations to the aspiring entrepreneurs who need encouragement to pursue their goals and dreams of becoming an entrepreneur.
We were joined by more than 300 entrepreneurs, partner organizations, and government officials. Sen. Bam Aquino, Sen. Miguel Zubiri and Sen. Sonny Angara graced the launch. DOST Secretary Boy dela Peña joined us as well. Sec. Mon Lopez, of course, joined us despite his busy schedule.
On the same day of the book launch, we had a simultaneous Mentor Me Roll Out in Cavite and Tacloban. Despite the heavy load for the team, we are glad we are expanding nationwide as we plan to bring mentorship to all provinces. I shared the efforts done by Go Negosyo for the Kapatid, Angat Lahat program and how we are gathering the support of the private corporations and government agencies.
As I have mentioned many times, mentorship is vital to an entrepreneur. That is why this is the focus of all our efforts.
Business ( Article MRec ), pagematch: 1, sectionmatch: 1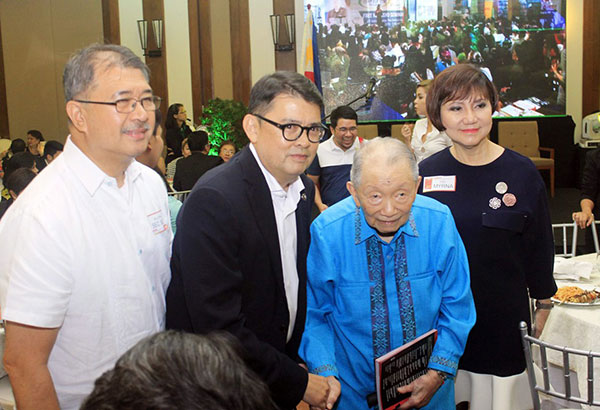 Presidential adviser Joey Concepcion with Washington Sycip, DOST Secretary Boy dela Peña and Myrna Yao.
Vice President Leni Robredo, who came straight from a provincial trip, delivered the keynote speech which all of the women entrepreneurs and also men in the room, appreciated. She focused on women empowerment, mentoring, and inclusive growth. She recognized the women entrepreneurs in the book which make "success look easy."
"We are grateful to Go Negosyo for shining a light on women in this crowd who proved there is no limit in excellence," Leni said. Knowing that starting a business is not an easy task, she commended the women in the room who have pursued their passion in their chosen industry.
As we all know, Leni is hands-on when it comes to her advocacies. She travels to provinces and listens to the community members on how she can help them. She discussed their plan of having a comprehensive roadmap on how to empower women across all sectors in the next six years. Part of this plan is to help micro entrepreneurs scale up and become small and medium entrepreneurs (SMEs) through access to inclusive supply chains.
There are two existing innovations which she mentioned: First is her program against hunger and poverty where local government units inked an agreement which requires them to get 30 percent of food needed in their supplementary feeding program from poor women farmers which then provides income for women and addresses the problems of malnutrition at the same time.
Second is the farmer-entrepreneurship program or inclusive business models where big corporations buy produce from farmers. Some fast-food corporations are buying a part of their vegetable supply from farmers. One of the examples she encountered is the small coastal community in Alabat, Quezon where residents are engaged in producing coco sugar and are now supplying to big corporations.
"Small farmers are given access to big markets without having to go through layers of middlemen," she said.
VP Leni also stressed the importance of mentoring.
"What if every women entrepreneur featured in this book personally mentors five other women from the fringes of the society who are trying to build their own small business? What if they spent at least an hour each day to teach, encourage and do some handholding? What if we use the power of mentoring to create pockets of hope among the poor?," Robredo said.
"What the women on the fringes of the society need is mentoring. There is power in the mere thought that someone like you would care enough. There is power in the idea that you would take time for them," she added.
We appreciate that VP Leni extended her hand in helping Go Negosyo in this collaborative effort of helping entrepreneurs scale-up.
Washington Sycip, who is one of the founders of SGV & Co., the country's and Asia's largest accounting and consulting firm also joined us. Before leaving, he shared a wish for the country: "By the end of another six years, when the new president comes in, half of the Senate, half of the House will be women!"
As Go Negosyo releases its latest book edition, it also empowers women in society to take the first step of their entrepreneurial journey with the knowledge there are successful women who lead several companies and industries and are on their road to global success!