You reap what you sow, thus it is only fitting that a seed company, Allied Botanical Corporation (ABC), would ascribe to this truism through its decades-long operation.
With millions of seed packets sold to farmers each year, the company is among the leading breeders, producers and distributors of seeds in the Philippines.
Established in 1984, ABC started with the production and distribution of sorghum seeds before expanding to high-value vegetable seeds that were bought by farmers in Baguio City and Benguet.
From the so-called chop suey vegetables that make up the popular dish, ABC's products grew to include seeds of other vegetables, flowers and various plant varieties.
While it caters to the wider seed market — including specialty farmers and professional growers – ABC President Michael Caballes said that their primary market has remained the same: the small farmer struggling to make ends meet. Allied Botanical Corporation makes sure the produce gets to the market.
ABC IS PROUDLY THE ONLY 100% FILIPINO SEED COMPANY WITH ITS OWN RESEARCH AND BREEDING FACILITY
He explained how ABC goes beyond just selling the seeds the farmers sow, pointing out the inclusive features of the business.
"We cannot just sell. We have to make sure the farmers get the best seeds for their production as soon as possible. Otherwise we're not going to last in this business," Caballes said.
Mike Melendres, owner of Melendres Farms in Antipolo City, demonstrated how ABC takes care of the farmers through partnerships and initiatives.
Starting in a small section of his family's three and a half hectare farm in the early 2000s, production has grown to around one million kilos of vegetables every year. Melendres also sources produce from other small farmers for sale to buyers.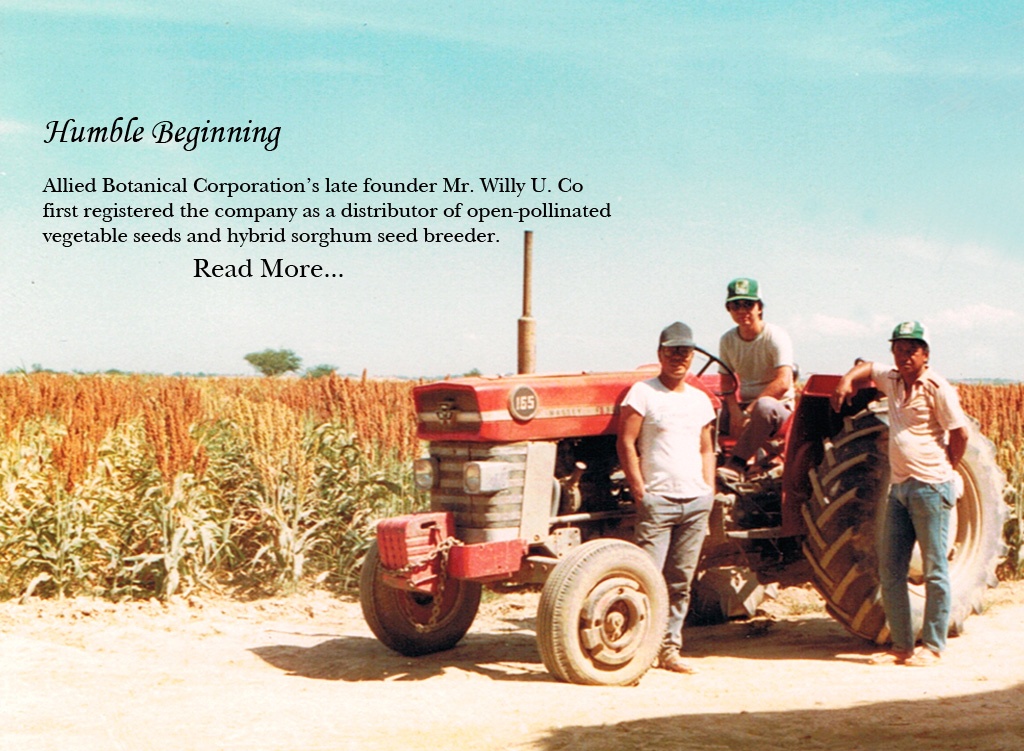 Melendres attributes his farm's success in part to the support of the seed company, primarily through its pay-later terms, when he was starting out.
"They make good partners," he said. "I was able to weather production challenges because of them."
Early on in his operations, Melendres said ABC linked him up with prospective buyers in Quezon, making it easier for him to find markets for his produce.
Linking farmers, traders and buyers is one of the different ways ABC supports farmers, Caballes said. Every year, ABC holds open houses with the different stakeholders in attendance.
"THE BUSINESS ALSO GIVES A SENSE OF SECURITY ON THE PART OF THE WEAVERS AS WE PROVIDE A SUSTAINABLE LIVELIHOOD FOR THEM."
"We bring them together, and the farmers learn what the consumers want, what the traders want. The consumers can select the seed varieties they want, and the farmers can grow them," he said.
ABC believes in the full circle approach. "We cannot stop at promoting the varieties and technologies to the farms. We have to make sure that the produce gets to the market. We link them, we facilitate it," he said.
Across the country, ABC hires local technicians to visit farmers, share new information and demonstrate the latest seed varieties. It also teaches farming communities how to market their products and increase profitability.
"We spend days and weeks on the farms, immerse ourselves in the communities and really learn what the people need," Caballes said.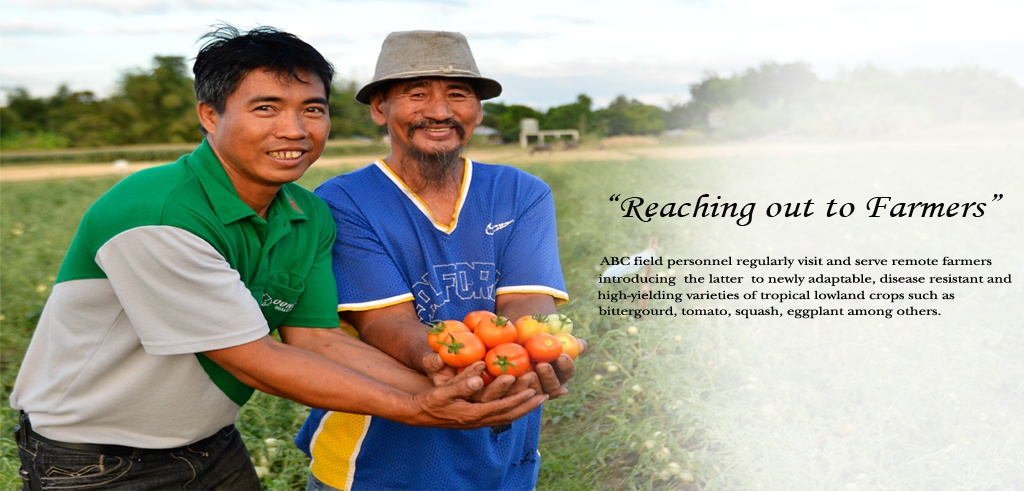 ABC also conducts training programs in partnership with local government units and other organizations to impart the latest innovations in agriculture.
Its strong partnership with local farmers helps ABC stay ahead of the competition in product development.
Going to the grassroots makes ABC immediately aware of the farmers' needs, Caballes said, enabling its research and development department to breed seeds to address those needs.
"If they have problems with disease, if their yield is low, we develop seeds to address these issues," Caballes said.
"Most of our people are agriculturists; a majority come from farming communities. They understand the hardships farmers face and we see it every day. That's why we are always ready to help," Caballes said.
"WE HAVE TO ENCOURAGE THE SONS AND DAUGHTERS TO CONTINUE CULTIVATING THEIR LAND BY SHOWING THEM THAT IT IS PROFITABLE, THAT THERE IS A FUTURE FOR THEM IN FARMING. YOU CAN ONLY DO THAT IF YOU INTRODUCE TO THEM THE WAYS AND MEANS TO IMPROVE THEIR PROFITABILITY."
---
ABC is pushing for the next generation to take over from their parents and ensure food security.
"We have to encourage the sons and daughters to continue cultivating their land by showing them that it is profitable, that there is a future for them in farming. You can only do that if you introduce to them the ways and means to improve their profitability." Caballes said.
For the company president, ABC's strong commitment to help the farmers is the main reason for its success.
"We are not aiming too high. As long as the farmers are happy, we will grow in turn. We don't just sell seeds to them, we help them in their livelihood. That's what keeps this company alive," he said.
"When we see the farmers able to send their children to school with the earnings from their produce, when we see young new doctors and engineers emerging from the hardships the farmers experience in the fields, we are happy. The farmers' success is our priority," he added.
This story is part of a series of articles written by GO NEGOSYO writers being published by GoodNewsPilipinas.com as part of our support to Philippine businesses.