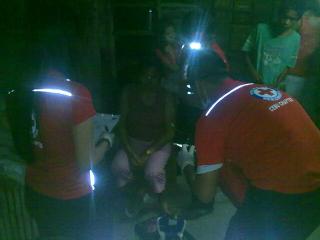 Red Cross personnel attend to survivors of ships' collision. Survivors of the collision between two ships near the Cebu International Port in waters off the towns of Talisay and Cordova are attended to be personnel of the Philippine Red Cross. GMA News – Cebu
The roll-on roll-off (RORO) ship that sank late Friday in Cebu had 841 people on board consisting of 723 passengers and 118 crew, the ship's operator said Saturday morning.
"The vessel has an authorized capacity of 1,010 passengers and crew," the 2Go Group said in their statement emailed to GMA News and other news organizations.
2Go added that "while the number of survivors and casualties are still being determined by proper government authorities and shipping officials,  rescue operations  by the Philippine Navy, Coast Guard, PSACC and 2GO Group are ongoing. 
The shipping firm also said it "dispatched two of its fast crafts and passenger ship M/V St. John Paul which was in the immediate vicinity."
2Go clarified that the MV St. Thomas Aquinas was not Manila bound. "The vessel came from Surigao and Nasipit Port bound for Cebu as a stopover port and then to Manila. It was estimated to arrive Cebu at 10 p.m."
Coast Guard officials earlier said the passenger ship was bound for Manila.  — ELR, GMA News