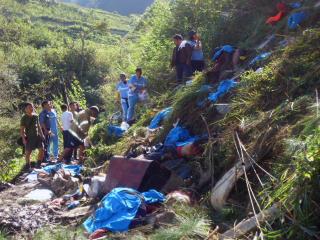 14 dead, 32 hurt in Bontoc bus accident . Rescuers attend to the injured and dead passengers of a Florida bus that plunged into a 116-meter ravine in Sitio Paggang, Talubin, Bontoc, Mountain Province on Friday, February 7. Cordillera PNP
The Land Transportation Franchising and Regulatory Board on Sunday started removing the license plates from the fleet of a bus firm whose unit figured in a deadly accident in Mountain province last Friday.
LTFRB Chairman Winston Ginez led the removal of the license plates of GV Florida Transport early Sunday, radio dzBB's Tuesday Niu reported.
Personnel of the LTFRB also checked the numbers on the chassis and engines of the buses to see if they match.
The LTFRB teams went to the bus company's terminals in Cubao in Quezon City, then to Sampaloc in Manila. The LTFRB earlier imposed a 30-day suspension on the company following the tragedy.
In the meantime, a separate report by dzBB's Paulo Santos said the company asked for understanding from its passengers, as it said all its trips are canceled "due to the preventive suspension issued by the LTFRB."
"All reservations will be refunded full," it said.
Last Friday, a unit of GV Florida fell into a ravine in Mountain Province, resulting in at least 14 people killed. One of the fatalities was comedian Arvin "Tado" Jimenez.
A separate dzBB report said GV Florida Transport sought understanding from the public for Friday's accident.
A lawyer of the bus firm went to the bus terminal to meet with LTFRB's Ginez.
Ginez was quoted in the report as saying the bus firm has been extending assistance to those injured in the accident.
On the other hand, the dzBB report quoted a lawyer for GV Florida, Alex Verzosa, as saying the bus firm's initial findings showed "human error" was behind Friday's tragedy.
He said their findings showed the bus driver may have miscalculated the narrow road, causing the bus to fall into a ravine.
The bus firm also said some 600 employees may be affected by the LTFRB's 30-day suspension. — LBG, GMA News