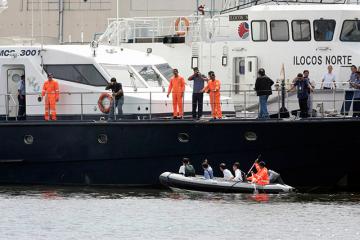 NBI, Taiwanese probers inspect DA-BFAR vessel. At the Manila Port Area on Tuesday, NBI and Taiwanese investigators inspect the DA-BFAR Monitoring, Control and Surveillance (MCS-3001) vessel that was used by PHL Coast Guard personnel in a shooting incident that killed a Taiwanese fisherman in Balintang Channel on May 9. The investigators checked every inch of the boat for new evidence. Danny Pata
Visiting Taiwanese investigators on Wednesday quizzed 18 personnel of the Philippine Coast Guard (PCG) and the Bureau of Fisheries and Aquatic Resources (BFAR) as part of the parallel probe on the fatal shooting of a Taiwanese fisherman off Balintang Channel in northern Philippines early this month.
Taiwanese prosecutor Lin Yeng Liang, however, kept mum on the details of their interview with the Filipino personnel embroiled in the incident.
"It's confidential," Lin said when asked what questions they posed to the Filipinos.
"With the assistance of the National Bureau of Investigation today we started to investigate and collect evidence both from the BFAR and PCG," he added.
The Taiwanese prosecutor, however, stressed that three days since arriving in Manila for their own probe, the Taiwan team has yet to reach a conclusion.
"We will continue doing the investigation… We will complete the investigation within two days," he told a group of reporters, composed of both Filipino and Taiwanese journalists.
For his part, NBI Deputy Director Virgilio Mendez, head of the NBI team separately probing the incident, observed that the Taiwanese probers were "doing their best" to finish their investigation by Thursday.
Mendez said the PCG and BFAR were all able  to answer the questions raised to them by the Taiwanese investigators.
"[But as to] whether they are satisfied, let's wait until the termination of the investigation."
— Mark Merueñas/RSJ, GMA News