It's said that the past is a different country. Not one for old men? It is, too. In fact sometimes it seems to be the only country we are left to relish.
Each time we lose someone from an era, we are sad but somehow regaled by memories of how sweetly that time and country had nourished us.
The losses are mounting. David Bowie reminded us of Major Tom and Ziggy Stardust of a space age long gone, but soon a ninth planet is discovered and we say it's obviously him out there. 
I wish we could say the same of Carlos "Caloy" Loyzaga, the best basketball player we ever had, bar none. He passed away last week at the age of 85 — when five planets were in east-northeast configuration, a basketball team to the naked eye at dawn.
The fellow with jersey number 14 was "The Big Difference." And he was the towering center of our recollection of boyhood days in the 1950s. His exploits as a cager have been sung of late— two-time Olympian (1952 Helsinki and 1956 Melbourne, where we placed 9th and 7th, respectively) among his citations, individually topped with inclusion in the mythical team in 1954 after our bronze finish in the World Championships in Brazil, next only to USA and the host country.
Numerous other data of half-a-century past fill up his stats sheet: seven consecutive championships with the fabled MICAA team Yco Painters; four Asian Games and two Asian Basketball Confederation titles through the '50s and '60s; retirement in 1964, before coaching the national team to regain the ABC crown in 1967 with his "Dirty Dozen"…
Lifestyle Feature ( Article MRec ), pagematch: 1, sectionmatch:
Before all that, the images are still capital in my mind's eye. As a grade schooler in San Beda, my earliest memories were of the banners hung above the main gate on Mendiola: once hailing a top one-two finish in the bar exams, then a series of signs welcoming back four Red Lions after that Brazil triumph: Caloy Loyzaga, Tony Genato, Pons Saldaña and Rafael Barretto.
And the following year, when Loyzaga regained his Bedan center slot after a hiatus caused by academic deficiency, he led the "sons of SBC" to that historic third NCCA post-war championship against Ateneo to claim the Zamora Trophy. The tale is oft-repeated among his many other exploits. San Beda won consecutively in 1951 and 1952, before losing out to the rival of the era in the next two years, the last sans "King Caloy." Then in 1955, the showdown against the Blue Eagles. And the Zamora Trophy came home to Mendiola.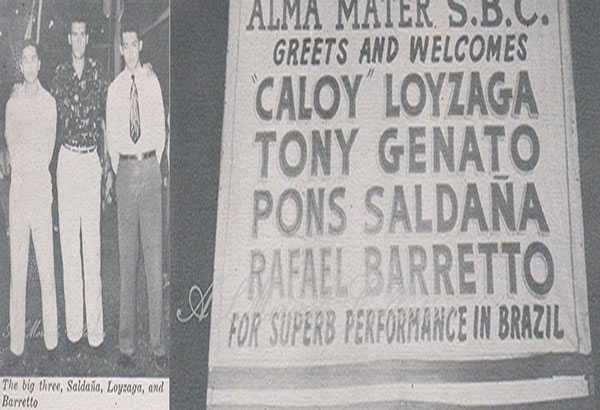 In those same years, my kiddie ears were just as honed as my eyes that early cast an upcoming fanatic's adulation at the giant who strolled the playing field back of St. Benedict's Hall, often in the tight short shorts of that era. I don't recall ever having witnessed him practicing with the basketball team inside the gym. Maybe it was off-limits to us kiddos. It was at the corner of the football field where his figure loomed large, where a pitching mound and four base-bags were the attraction. He also loved softball, the game that broke his wrist before the mid-'60s and led to his retirement.
At home, the images of the national pastime being played at fever pitch were all imagined, as graphically as the sportscaster Willie Hernandez could paint the picture. My dad taught me how to score a game on paper while listening intently to what I still savor as a cathedral radio, all of two feet high, with gold cloth covering the parts sectioned by arching wood.
We listened to the MICAA games. For the NCCA my dad made sure to acquire season's tickets to the Rizal Memorial stadium (where LaSallite Kurt Bachmann's mother ran on-court with a wicked umbrella after an opposing player). Before Bachmann there were many other legendary names: Charlie Borck ahead of everyone, as my dad told and retold, then Lauro "The Fox" Mumar, Herminio Astorga and Luis Tabuena of Letran's "Murder, Inc." that preceded San Beda's glory years.
A decade and a half later, it was similarly via radio broadcast that I thrilled to Danny Florencio's undergoal twisters against South Korea when Coach Loyzaga fielded him in the last minutes of a tight game. Danny proved to be the "dirtiest" of the dozen, a national rookie who won the game and the ABC crown with crucial free throws.
How simple life seemed in those days, starting in the '50s. We took communion weekly, sang "No mas amor que el tuyo" in the most beautiful chapel in the world, waited for the bar exam results each year, while our Red Lions had Loyzaga, Saldaña, Genato and Barretto, later Jota "The Spinning Jay," "The Olympian" Bonnie Carbonell, and to start the next decade, Tata Carranceja, burly center Big Boy Reynoso, Pepe Oyson and Boy Ascue as part of a no-superstar team that won another NCCA championship.      
We walked up and down Mendiola, past Holy Ghost College towards Malacañang, or crossed the bridge over an estero to the pool halls at the corner of Legarda and what was then Azcarraga, farther up which was Morayta where we took a jeepney ride home, or sometimes went past FEU to cross Quezon Boulevard for Asia Chicharon and the moviehouses all the way to Avenida Rizal. 
Ah, the romance of colonial names for streets, before the nationalism binge also led to family glorification by way of pettily legislated surnames.
In any case, by the time Caloy's oldest son Chito led SBC in regaining the NCCA crown in 1977, much of Manila's romance had faded, as it continues, with the PNB building on Escolta next on demolition row. Murder, Inc. has become the bad boy of our choking metropolis.
Thanks to Chito then for initiating the book on his father, launched in 2013 in the Mendiola campus when The Big Difference had come back from Australia after sorry medical episodes. Thanks to sportswriter Lito Cinco who spearheaded the compilation of reports and features by Henry Liao, Ignacio Dee, Bong Pedralvez, Tessa Jazmines, A.O. Flores, Joaquin Henson, Brian Maniquis and Beth Celis.
Rereading the book now, we are reminded that it was Baby Dalupan who had lent a car for Caloy to drive up to Baguio with his bride Vicky for their honeymoon in 1956. Oh what a far yet charming country.
We've heard of how Loyzaga was offered an athletic scholarship at the University of Oregon after the Melbourne Olympics, but turned it down. But we are reminded again by Tessa Jazminez of a conversation he had with the pre-Celtics Bill Russell. As Caloy recalls:
"Bill Russell gave me good advice in Melbourne. He said, getting to the top is hard, but when you're already there, it's twice as hard to stay there. When you reach the top, there is no other way to go but to the other side of the hill. Quit while you're ahead. And remember to treat well the people you meet on your way up, because you'll meet them again on your way down.
"And that's what I did. I played only for three teams in my life — San Beda, Pratra and YCO. I am not in the habit of collecting playing uniforms."
In the same book, Iggy Dee gives us the game results in that World Basketball Championships in Rio de Janeiro where we won six and lost three games, once to USA by 56 to 43, and twice to the hosts, by 99 to 62 and 47 to 41. But we beat Paraguay 64-52, China 61-44, Israel 90-56, Canada 83-76, France 66-60, and Uruguay 67-63. Caloy scored 33 points in that last game, 20 against France, and 13 against Canada.
In a few months, can our Gilas national team do the same against France and Canada in the Olympics wild-card qualifiers we'll be hosting here? So we may go back to Rio, to another Olympics? Without the likes of The Big Difference and against NBA players? Alas, that country of great good memories seems far far gone. Along with it, goodbye, Caloy! And thank you for the Bedan and Pinoy pride. 
* * *
Memory lane also takes us back to Baguio in the 1960s when our friendship with architect Bnn Bautista had us meeting all his siblings at their residence which often became our lodging quarters. We took meals with the whole family, with patriarch Fernando Bautista Sr., and "Nanay" at the head of the table that groaned from food and incessant laughter, what with their boys infected with a serious case of viral humor: Fer, Bnn, Rhey, Des, Herr, Gil…
Tatay and Nanay had established University of Baguio. A couple of their househelp came from Sagada, which led to our first visit there with buddy Eric Villegas (two years ahead of us in San Beda) way way back in 1962. 
Now I am pleased to hear that that far country restores our faith in genes. Ynna, Bnn's and Malu's eldest daughter, was recently installed as UB's first lady president in investiture rites last December.
Prof. Dhanna Kerina Bautista Rodas is a Fine Arts-Visual Communication graduate of UP Diliman, where she also took a master's degree in special education and is currently a PhD candidate.
As an educator-artist, Ynna initially worked on graphics designing and animation at the Makati-based Burbank Animation in the early 1980s. From 1988 to 1991, she served as an animation production director and graphic artist at Creative Expressions Studios, Inc. With Reintegration for Care and Wholeness, she was a board member from 2007 and corporate treasurer several years later. She was also a Special Olympics parent volunteer from 2003 to 2005. She has lectured and taught at UP, St. Scholastica's College and FEU-FERN College in undergraduate subjects on child behavior and as college professor in the graduate program for human growth, learning and development and art in early childhood and special education.
Last year, she presented the paper "Social Studies Curriculum Guide and Textbook: How String is the Connection" during the International Journal of Arts and Sciences Conference in Harvard, as well as a speech on "Education Reform for Social Justice: The New Challenge 2015" in the College of Arts and Sciences in Thailand. She has also served as corporate secretary and first vice president of the Philippine Association of Colleges and Universities. 
Sworn in as University of Baguio President by Bishop Carlito Cenzon, Prof. Ynna Bautista Rodas stressed in her acceptance speech: "We must empower students to be independent while keeping their cultural identity, contributing to society constructively. This is the UB graduate's identity, competent for industry and life at large."
Congratulations to Ynna. Tatay and Nanay of that far yet loving country must be so proud.