The Blue Fairy (played by Liesl Batucan) visits Pinocchio (Noel Comia) in Rep's Theater for Young Audiences' production of Pinocchio, which opens on Aug. 16 at 10:30 a.m. at Onstage Theater in Greenbelt One. PHOTOS BY JOJIT LORENZO
One of my favorite quotes comes from an article on theater for children by Lauren Gunderson who, quoting Bill English of San Francisco's SF Playhouse, wrote, "Theater is like a gym for empathy. It's where we can go to build up the muscles of compassion, to practice listening and understanding and engaging with people that are not just like ourselves. We practice sitting down, paying attention and learning from other people's actions. We practice caring."
This is what I love about theater. Learning comes so easily, affects deeply, and lasts a lifetime. To my mind, nothing gives such a clear understanding of human nature as theater does —"understanding and engaging with people that are not just like ourselves."  And this is why I am passionate about theater for children. They need to learn to care. 
We care for our children's health. We see that they get their shots, their vitamins, their check-ups, that they get enough sunshine and exercise and that they eat the right food. We try to give them the best schooling possible. But sometimes we overlook how vulnerable and sensitive children's minds are and that there is another part of their brain that needs care and feeding, too. Our children are made to grow up too fast. Electronic devices, television and movies that propel them forward to an amazing technological future, teeny-bopper adult-like shows, music and fashions that push them beyond their ages, movies and television shows that, in varying degrees, open their eyes to the world of war, violence and sex. No time to be a child.
Rep's Theater for Young Audiences (formerly called the Rep Children's Theater) is meant to give time for children to be children. The material is simple. Classic children's fairy tales told in the classic style — not in the screwed-up versions that the movies seem to prefer. No well-known movie melodies. The music is almost classical but is always lively enough to keep the children's attention. Magic is created on stage with sets, lights, smoke machines, and sometimes a bubble or a snow machine to help the imagination along. But the best magic is in the storytelling skill of all the actors who perform solely with young children in mind. "If the children are noisy," I tell them, "It's your fault, not theirs." And the children are almost never noisy.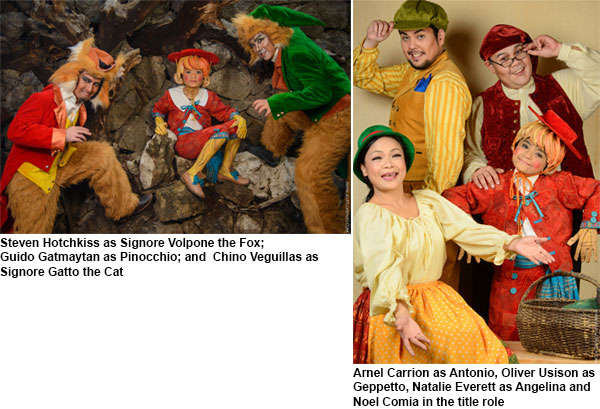 Pinocchio marks the 21st year of Rep's Theater for Young Audiences or RTYA.RTYA has done practically all the children's classics such as Alice in Wonderland, Wizard of Oz, Beauty and the Beast, Jack and the Beanstalk and a few modern pieces — Seussical, Mulan and Aladdin.  Pinocchio will feature some of RTYA's favorite actors — Oliver Usison, Liesl Batucan, Cara Barredo, Arnel Carrion and Nic Campos, and Bituin Escalante plus many familiar and new faces. It  will also welcome one of the Philippines' finest actors, Miguel Faustmann, to the RTYA stage. Best of all, it will welcome six young and passionate actors who will alternate in the title role of Pinocchio — Noel Comia, Andee Achacoso, Guido Gatmaitan, Albert Silos, Sophia Wong and Daniel Drilon —all who have been specially trained for the role by Baby Barredo.
Lifestyle Feature ( Article MRec ), pagematch: 1, sectionmatch:
Pinocchio is a musical adaptation written by Jim Eiler and Jeanne Bargy of a novel by Carlo Collodi. As in all RTYA productions it will be interactive with the children led to sing, to "learn Italian" and to know a little geography. Very subliminally it teaches lessons on truth, obedience to parents, importance of learning and, most importantly, love.
Let's give children time to be children. Let's take them to the gym that allows them to practice caring. Let's feed their hungry minds so ready to take in nourishment. Let's take them to the theater.
* * *
Pinocchio opens on Aug. 16 at 10:30 a.m. at Onstage Theater in Greenbelt One and will run until Dec. 12. Tickets are available at Ticket World (891-9999) or at the REP office (843-3570). Called-in reservations are accepted.