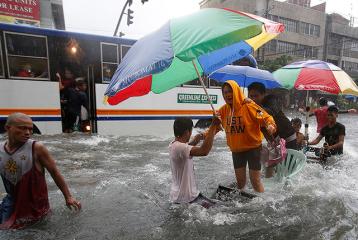 Standstill in Metro Manila as flood affects millions. A woman on an improvised cart reacts as a passenger bus passes along a flooded street in Manila at the height of Storm Mario on Friday, September 19. Thousands of residents in low-lying areas were moved to higher ground, officials said, as flood waters rose quickly after the equivalent of half a month's usual rain fell in six hours. Reuters/Erik De Castro
At least two people were killed while one is still missing in the wake of Tropical Storm Mario (Fung-Wong), the National Disaster Risk Reduction and Management Council said.
The NDRRMC also said at least three people were injured while one person remained missing, according to a report on "24 Oras" Friday evening.
One of the fatalities was a young girl who died in Quezon City.
Mario brought heavy rain and floods to Metro Manila and nearby provinces on Friday.
Meanwhile, the "24 Oras" report said President Benigno Aquino III is keeping tabs on the effects of Mario and the Southwest Monsoon.
—Joel Locsin/NB, GMA News