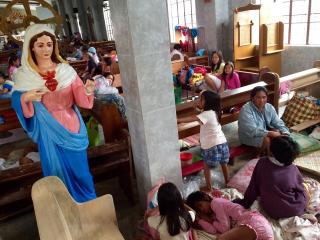 Sorsogon residents find shelter in a church. Residents of a coastal barangay in Sorsogon take refuge in a church ahead of Ruby which is expected to make landfall in Dolores, Eastern Samar on Saturday evening. Joseph Morong
Typhoon Ruby (Hagupit) could affect 26.8 million people in the Philippines, according to Global Disaster Alert and Coordination System (GDACS).
Among people living in coastal areas, 2.4 million are at risk of storm surges Ruby may generate, the GDACS added.
The GDACS is an initiative of the United Nations and the European Commission in cooperation with disaster managers worldwide to disseminate information in times of calamity.
The populous Southern Tagalog region could bear the brunt of the typhoon's effects, with 8.2 million people who could be potentially affected by extreme winds. National Capital Region and Central Luzon follow, with 7.9 million and 6.1 million, respectively.
Bicol Region and Eastern Visayas, which faces the Pacific Ocean and thus prone to adverse weather conditions, relatively have a lower population affected with 3.9 million and three million.
As of 6 a.m. on Saturday, 10.8 million have already felt the cyclone winds brought about by Ruby, with maximum speeds reaching 204 kph, according to GDACS.
GDACS also listed airports and major ports which could be affected, which includes the Ninoy Aquino International Airport and the Subic Bay International Airport.
— Marisse Panaligan/JST, GMA News