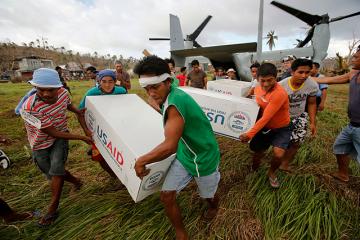 More relief aid delivered for Samar typhoon victims. Residents carry relief boxes from US Aid after an Osprey aircraft of the US Navy landed at a remote village near the eastern Samar town of Guiuan, on Tuesday, November 19, 10 days after Typhoon Yolanda, one of the strongest typhoons ever recorded, made its first landfall in this town. Reuters/Wolfgang Rattay
The United Nations has so far raised about $193 million in assistance for the victims of Super Typhoon Yolanda (international name Haiyan), which battered the central Philippines last November 8.
"I would like to thank member states, the private sector and the public around the world for their immense generosity and support for the Filipino people so far," said UN Under-Secretary-General for Humanitarian Affairs and Emergency Relief Valerie Amos Tuesday. "It is clear that their plight has touched everyone,"
The amount included both cash and in-kind donations as of November 18.
"This includes $87 million for the Haiyan Action Plan that was launched by the Humanitarian Country Team on 12 November. " Amos noted.
Earlier, the UN made an urgent aid appeal to the international community to raise some $301 million to help the Philippines recover from the devastation caused by the super typhoon, the strongest typhoon in history to have made landfall. 
"However, we know that the appeal figure will increase significantly," the UN humanitarian chief added.
The National Disaster Risk Reduction Management Council has so far listed the number of fatalities at  3982. The injured number around 18,000, while those who are missing stands at 1,602.
According to the UN, some 2.5 million people affected by the typhoon need food assistance. To date, the UN's food aid has reached over 1.1 million Filipinos, while the Philippine government has provided some 837,900 food packs in affected areas.
Although the UN Humanitarian chief noted that the national and local government efforts, supported by the international community, are paying off, she said that "the needs are immense and so much more needs to be done."
Nevertheless, Amos added that she continued to be struck by the resilience and spirit of the Filipino people. "Everywhere I have visited, I saw families determined to rebuild their lives under the most difficult conditions." — DVM, GMA News