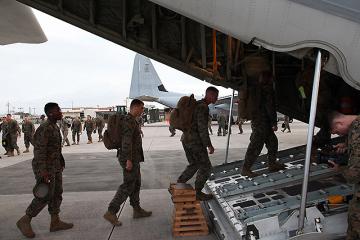 US Marines sent to PHL to help 'Yolanda' victims. US Marines board a KC-130J Hercules aircraft on Sunday, November 10, at Marine Corps Air Station Futenma, Okinawa, Japan, moments before departing for a humanitarian assistance and disaster relief mission to the Philippines. Super typhoon Yolanda has impacted more than 4.2 million people across 36 provinces in the Philippines, according to the NDRRMC. AFP/USMC / Lance Cpl. David Hersey
TACLOBAN – US marines on Monday joined a frantic effort to rescue famished survivors of a typhoon that may have killed 10,000 people in the Philippines, as the government declared a national emergency and security forces struggled to contain looting.
Three days after Super Typhoon Haiyan flattened entire towns across the central Philippines and left countless bodies scattered across wastelands, desperation was building with devastated communities devoid of food, water and medicines.
President Benigno Aquino late Monday declared a national state of calamity, which allows the government to impose price controls and quickly release emergency funds.
"In the coming days, be assured: help will reach you faster and faster," he said in a televised address.
"My appeal to you all is: remaining calm, praying, cooperating with, and assisting one another are the things that will help us to rise from this calamity."
Relief cannot come soon enough for Joan Lumbre-Wilson, 54, who was among a large crowd of people gathered around one of the few relief centres in the ruined city of Tacloban.
"We want an organized, coordinated brigade to collect the dead bodies, bring food and stop the looting," she said.
"It has been four days. We want water and food. We want someone who will help. We are emotionally drained and physically exhausted. There are many babies and children who need attention."
Haiyan generated waves up to five metres (16 feet) high that surged inland like a tsunami, the walls of water destroying nearly everything in their path along huge stretches of coastlines throughout the central band of the archipelago.
Blaming global warming for the typhoon's ferocity, a Philippine negotiator at UN climate talks in Warsaw pledged to fast until progress is made on tackling the environmental crisis.
"In solidarity with my countrymen who are struggling to find food back home and with my brother who has not had food for the last three days… I will now commence a voluntary fasting," envoy Naderev Sano said as the 12-day talks got under way.
About 10,000 people are believed to have died just in the eastern province of Leyte, of which Tacloban is the capital, according to the region's police chief.
Philippine authorities have been overwhelmed, their efforts to quickly deliver aid hamstrung by the destruction of airports, roads, bridges and other infrastructure.
Many areas remained cut off from any relief efforts on Monday, leaving bodies to rot in the humid atmosphere and survivors little choice but to rummage through the debris for food, water and other essentials.
Even in Tacloban, the base for relief operations in Leyte, bodies remained littered through the streets and the stench of rotting flesh hung thick in the air.
The scale of the disaster continued to unfold as more remote areas were surveyed, with aerial photos of Samar island, where Haiyan first made landfall, showing whole districts of coastal towns reduced to piles of splintered wood.
Haiyan's sustained winds when it hit Samar reached 315 kilometres (195 miles) an hour, making it the strongest typhoon in the world this year and one of the most powerful ever recorded.
US marines shocked at devastation
In Tacloban, dozens of American marines arrived on Monday afternoon aboard two US military C-130 transport planes packed with relief supplies, and expressed shock after receiving a bird's eye view of the carnage.
"Roads are impassable, trees are all down, posts are down, power is down… I am not sure what else is there. I am not sure how else to describe this destruction," Brigadier General Paul Kennedy, the commanding general of the Okinawa-based 3rd Marine Expeditionary Brigade, told reporters.
The Marine Corps said another 90 troops were on their way, tasked with conducting a humanitarian assistance survey.
The US troops were the most visible sign of a major international relief effort that had only just begun and could last for years, with aid agencies likening the scale of the destruction to the 2010 Haiti earthquake that killed tens of thousands.
"The level of destruction we're seeing reported is absolutely staggering," said Antonio Guterres, head of the UN refugee agency.
The UNHCR is organising an emergency airlift to the Philippines, the agency said in a statement.
Though the UNHCR usually focuses on conflict situations, said Guterres, the "exceptional nature" of the Philippine tragedy required "all possible efforts… we will play our part".
Many foreign governments have pledged help, with Australia donating nearly US$10 million, while United Nations leader Ban Ki-moon promised UN humanitarian agencies would "respond rapidly to help people in need".
Adding to concerns was a looming storm in the Pacific Ocean that threatened to dump heavy rain across Leyte and other devastated areas.
The depression is expected to hit land on the southern island of Mindanao late Tuesday, then move across the central islands of Bohol, Cebu, Negros and Panay, which all suffered typhoon damage, weather forecaster Connie Dadivas told AFP.
Security forces deployed to contain looters
Meanwhile, hundreds of Filipino police and soldiers were deployed to contain looters in and around Tacloban, after mobs ransacked a Red Cross aid convoy on Sunday and gangs roamed the streets stealing consumer goods such as televisions.
"We have sent substantial (forces) there and if we need to add some more, it won't be just the police but even the armed forces," civil defence office spokesman Reynaldo Balido said on ABS-CBN.
Haiyan swept out into the South China Sea on Saturday and hit Vietnam and China on Monday in a significantly weakened state, although still strong enough to uproot trees and tear roofs off hundreds of homes.
At least five people were reported dead in China, while officials in Vietnam said there had not yet been any fatalities.
The Philippines endures a seemingly never-ending pattern of deadly typhoons, earthquakes, volcano eruptions and other natural disasters.
But if the death toll of more than 10,000 is correct, Haiyan would be the deadliest natural disaster ever recorded in the country, exceeding the 1976 Moro Gulf tsunami that killed between 5,000 and 8,000 people.  — Agence France-Presse