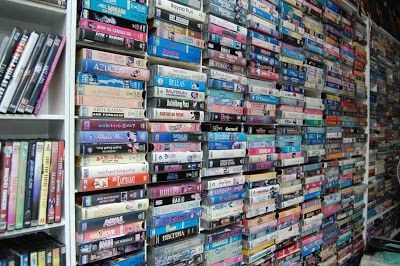 Today's video landscape has changed dramatically from the bygone days of video rental, with video-on-demand being the rule, rather than exception for consuming media. But as video rental chains like Blockbuster shutter their doors, one man's video rental shop is not only surviving, but flourishing.
Simon Santos, the owner of Video 48 located in Quezon City, is a man known by film students and cinema luminaries alike. His shop is the frequent haunt of film students and National Artists, luminaries like Lino Brocka and Nick Joaquin as well as Luciano 'Chaning' Carlos, Celso Ad. Castillo, Gil Portes, Elwood Perez, Maryo J. delos Reyes, Jeffrey Jeturian, Laurice Guillen, Khavn dela Cruz, Adolfo Alix, Jr., Raya Martin, Quark Henares; writers Conrado de Quiros, Pete Lacaba, Lualhati Bautista have all visited his shop at one time or another to borrow Simon's extensive video collection.
Simon first established Video 48 as an outlet for his burgeoning film collection in 1988. Since then, he's been steadily adding to his collection, adding collectibles like posters and other memorabilia to the mix to spruce up the store's ambiance. His collection of memorabilia is sizable, and consists of pre-war, post-war, '50s and '60s movie fan magazines, 50s and 60s Komiks as well as lobby cards, movie flyers and other collectibles. All of this he shares on his Video 48 blog which he started back in 2007, as a repository and virtual library of Philippine Cinema which has been the major destination for researchers and other aficionados for information about our colorful cinematic past.
But of all local luminaries, nothing beats Fernando Poe Junior in Simon's mind. He's been a fan ever since he saw "Da King" back in the early 60's in Markado, and has devoted a separate blog about the King of Philippine cinema. He also created a blog that pays homage to Filipino Komiks, where National Artist Francisco V. Coching's Dumagit and other serial comics reside, online. Simon hopes that these sites will rekindle the public's interest in classic Filipino cinema.
For Simon, seeing the works of old Filipino masters is a must. "Movies by our great filmmakers like Gerardo de Leon, Lamberto Avellana, Manuel Conde, Lino Brocka, Ishmael Bernal, Celso Ad Castillo, Mike de Leon, among others should be made available. They must be seen and appreciated. More and more movies, especially those from the 70s, are being digitally restored and remastered. We now have great films like Genghis Khan, Ganito Kami Noon, Paano Kayo Ngayon, Batch 81, Asedillo, Himala, Oro, Plata, Mata, Virgin People, and Maynila sa Kuko ng Liwanag for our younger generations to see and enjoy."
Video 48 is at Ground Level, Mary Santos ARTcade Building, 48 West Avenue, West Triangle, Quezon City.