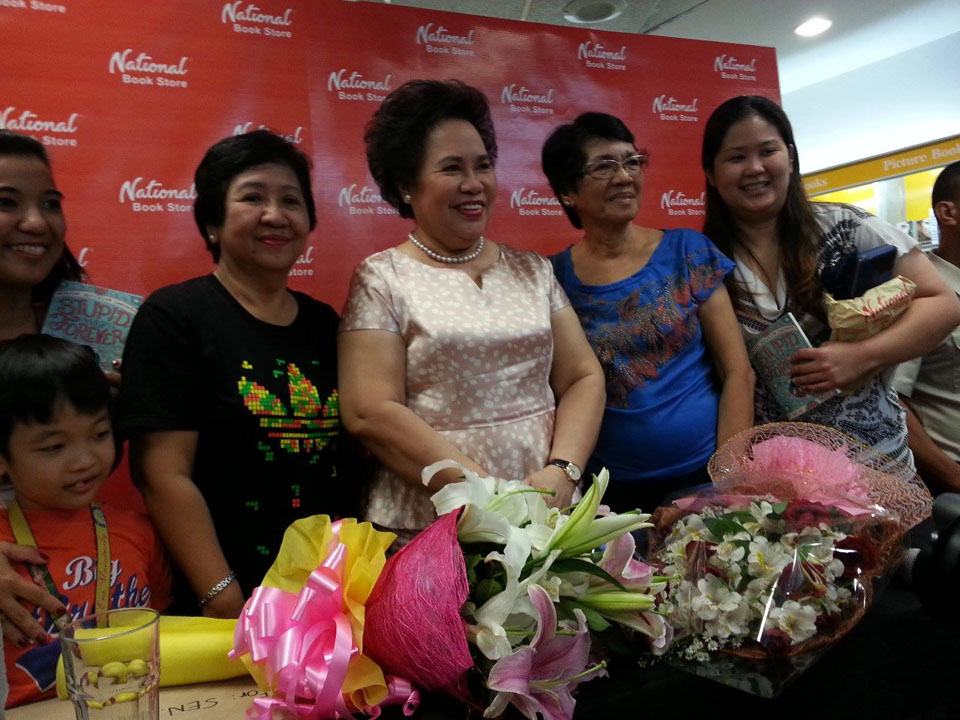 Miriam poses with her fans during the launch.
Vida Cruz
During the launch of her new book "Stupid Is Forever" on Wednesday, the introduction for Sen. Miriam Defensor-Santiago took some 10 minutes, as it listed the many honors, awards, and accolades she had received throughout her life.
After the lengthy intro, the senator couldn't help but quip: "I won't be speaking for long. I won't pretend I wasn't just introduced as the President of the Philippines in 2016."
That drew laughs from the audience, who surprised even Santiago with their big turnout. 
"I just want to say that I did not expect na ganito karaming tao ang darating sa ganitong oras, dahil weekday ngayon eh. Miyerkules pa man din, pero sa palagay ko sobrang sa isang libo ang dumating ngayon," she said.
But while her popularity was apparent from the cheers of the crowd, she said it didn't exactly bolster her resolve to run for the presidency in 2016. 
She believes that she has to beat the stage four lung cancer plaguing her. That cancer was discovered last June and is now in remission. 
"I have to be in the best of health if I will be president of the Philippines because there are so many things that have to be done simultaneously," she said.
She did, however, have advice at the ready for any aspiring candidate for the highest office in the land.
"Anyone who wants to run for president in 2016 must make sure to use social media in the proper way acceptable to the netizens. Otherwise, they will spurn him notwithstanding that he enters their domain," she said. 
"You have to communicate in a certain way. You don't just enter social media for your own benefit."
Pet peeve
She had an impromptu press conference with members of the media after the launch, but asked them not to ask "serious" questions. That, however, didn't prevent her from getting a bit pokitical.
When asked about the most stupid thing she has heard in the Senate, she replied with a story: "In the plenary session, there's always a so-called debate because one person will introduce a bill and another person will question the bill as to its desirability. Sometimes, when a person who is sponsoring a bill is asked a question by another senator and the sponsor does not immediately know the answer, that person will simply say, 'That's a very good question; I like that.'"
Later, when asked to name her top three pet peeves, she quipped: "Maybe not top three, just one: the Senate." — JST, GMA News