Ice cream is one of the all-time favorite desserts of Filipinos but lately; artisanal rolled ice cream is the big thing.  Elait, a local ice cream parlor, takes on this new trend with a flair all its own. The name itself stands for two words: "elate" meaning uncontrollable joy, and "lait", the French word for milk.  What makes this new ice cream place so special?
Elait uses locally-sourced ingredients.  One of Elait's official hashtags #HappinessInACup, and it's no wonder.  The ingredients are guaranteed fresh, sourced from key, trusted suppliers.  To complete the dessert experience, it is presented beautifully with perfectly rolled ice cream and mouthwatering toppings of your choice.
Elait offers unique flavors that cater to the Filipino tongue.  Where else can you find Chocnut Dinasaur ice cream (yes, it is spelled with an "a" and not an "o"), which is a rich combination of Milo powder, Chocnut and chocolate drizzle?  There's also Ube Flan, which is somewhat similar to halo-halo as it has leche flan, ube and pinipig crunch.  Other interesting flavors are Salted Egg Surprise which has tomato jam, caramel, popcorn and real salted eggs and Avocado Crunch which will also remind you of another local dessert because it has avocado, condensed milk and cornflakes.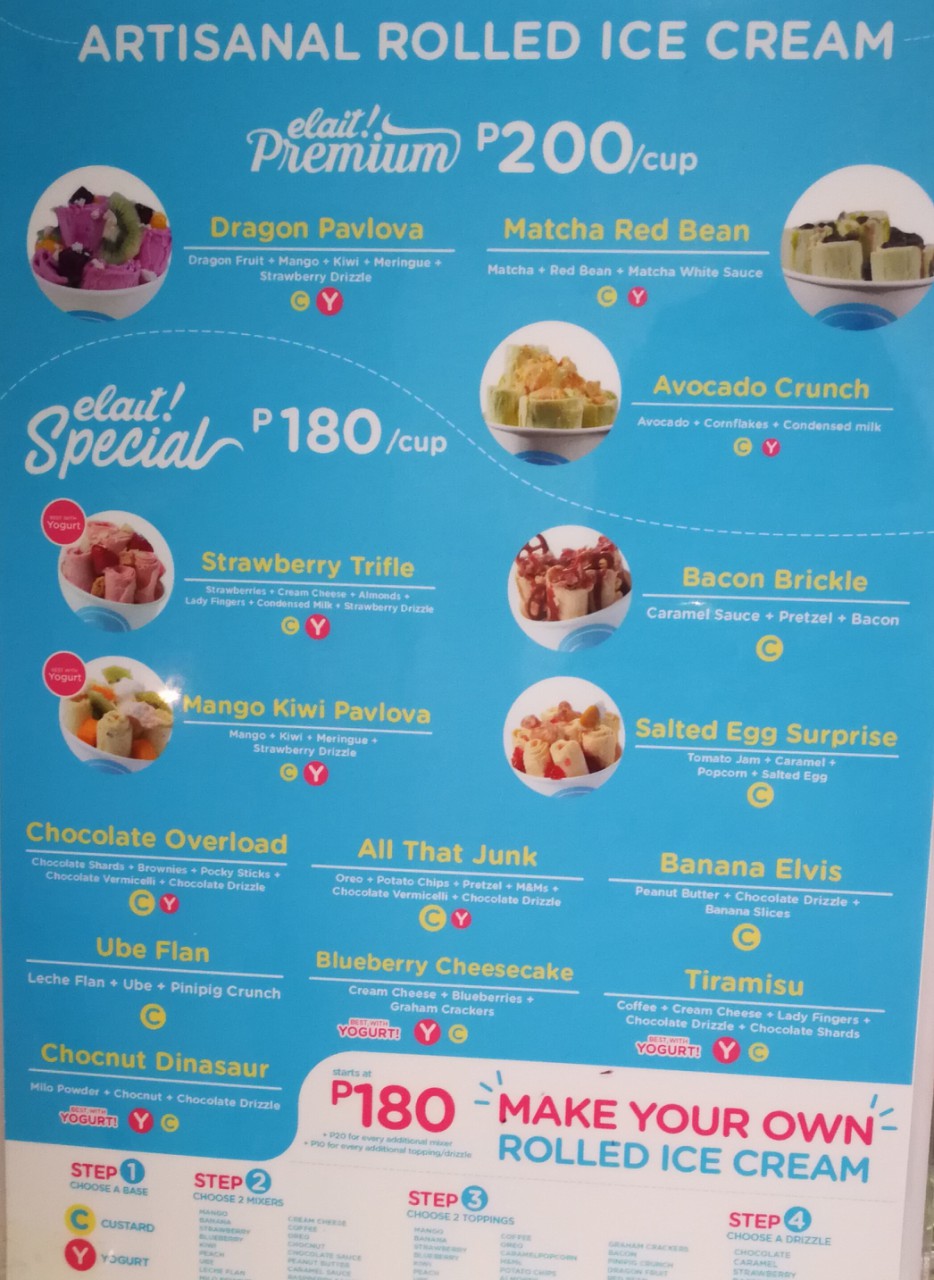 Here's a snap of their menu for the rest of their flavors.  You also have the option of making your own ice cream.  The price is Php 180 for Elait Special flavors and Php 200 for the premium ones.  Health conscious customers can also order yogurt instead of custard ice cream.
Elait supports the Philippine Deaf Community.  It is easy to spot the "talk to us in sign" poster the moment that you enter the store, because Elait hires partners with hearing impairment.  Most of its employees are from the Philippine Deaf Community. When ordering, you simply have to fill out a form and watch them do their magic as they create the ice cream rolls.  They are incredibly efficient and the obvious joy in what they do is contagious.
Craving for dessert?  Check out Elait's artisanal rolled ice cream in these 2 places:
2/F Century City Mall, Kalayaan Avenue, Makati City
3/F Ayala Malls The 30th, Meralco Avenue, Pasig City
The post 3 Reasons to Love Elait's Artisanal Rolled Ice Cream and its advocacy appeared first on Good News Pilipinas.