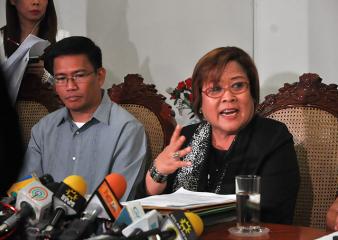 De Lima: 34 others to face raps in connection with 'pork' scam. Justice Secretary Leila de Lima on Friday, November 29, revealed a new set of respondents in a new complaint to be filed with the Office of the Ombudsman in connection with the alleged pork barrel scam. The list of respondents includes Customs Commissioner and former Muntinlupa Rep. Ruffy Biazon, an ally of President Aquino. Also in photo is lawyer Levito Baligod. Danny Pata
After filing three batches of criminal complaints in the last two months, the government is now preparing at least five more in connection with the alleged misuse of government funds, including the Priority Development Assistance Fund (PDAF).
Lawyer Levito Baligod on Friday told reporters that their camp already has witnesses who come from the government and have already executed affidavits for these five new batches of complaints.
"Mayroon pa. Mga hanggang 5 batches, halu-halo na, non-PDAF, non-(Janet Lim-) Napoles," said Baligod at a press briefing held shortly before before the second batch of PDAF-related complaints was filed with the Office of the Ombudsman.
Napoles, a businesswoman, is facing plunder charges in connection with the alleged P10-billion pork barrel scam.
Baligod kept mum on the details of the five other batches but said these involved irregularities between 2004 and 2006. He also said Napoles and her non-government organizations were still involved in these irregularities.
However, Baligod said other non-Napoles NGOs would now be implicated in the new batches. He suspected that these other NGOs got even bigger kickbacks than those linked with Napoles.
"Example, sa National Agribusiness Corp, P2.9 billion ang dumaan na PDAF diyan. Ang napunta lang sa Napoles NGOs ay P544 million," the lawyer said.
"This means that about P2.4 billion ang napunta sa ibang NGOs na hindi (linked kay) Napoles," Baligod added.
Baligod said the new whistlebowers are government employees who were inspired by pork scam witnesses Benhur Luy and other former employees of Napoles to come out and tell all.
Baligod refused to give further details on these new whistleblowers but said they come from implementing agencies embroiled in the mess.
"Ito ang kagandahan, ang environment natin ngayon allows this to happen. Lumakas ang loob nila. Naniniwala sila na diretso ang ating Presidente [at] incorruptible ang ating secretary of Justice kaya nagkakaroon sila ng lakas ng loob," he said.
First 3 batches
The first three batches of criminal complaints involved:
Napoles, Senators Juan Ponce Enrile, Ramon Revilla Jr, Jinggoy Estrada, and 34 others for alleged misuse of Priority Development Assisstance Funds or "pork barrel" filed in September;
Napoles, former President Gloria Macapagal-Arroyo, and 20 others over the P900-million Malampaya gas fund mess in October;
Napoles, former Muntinlupa Rep. and incumbent Customs chief Ruffy Biazon, six other former congressmen, 26 others, also on PDAF-related anomalies filed on Friday.
The first three batches of complaints were mainly based on testimonies given by Luy and other employees of Napoles' JLN Corp. who claimed that their employer tried diverting PDAF and Malampaya funds through non-existent foundations.
Napoles, who is currently detained at Fort Sto. Domingo in Laguna over a separate case, has denied all accusations hurled against her by Luy and the other whistleblowers. — Mark Merueñas/KBK, GMA News