Curtain-raisers:
Reactions to the recent story about 1976 Bb. Pilipinas-Universe Lizbeth de Padua: From Dr. Danny David: You wrongly identified Lizbeth as a neurosurgeon (one who operates and does surgery on the nervous system). Actually, she's a neurologist (like Dr. Joven Cuanang), one who diagnoses and treats disorders of the nervous system…From Leah Salterio: I don't know Lizbeth personally but she has an equally accomplished younger brother, lawyer Dan Albert de Padua, whom I've known since he was with GMA 7 in the '90s until he moved to TV5 where he was vice president. However, he took an early retirement late last year and "is happily retired." When a friend asked him why he retired so soon, Dan wrote poetically in his Facebook: "My heart can take the pounding. My mind can take the grind. But my body knows it's time to say goodbye." (TV5 PR executive and STAR columnist Peachy Guioguio confirmed that Dan has retired from TV5.)
Starting today (Feb. 5) until Sunday, Feb. 7, Travel Specialist Ventures is participating at the 23rd Travel Tour Expo 2016. Check it out at the second floor of Function Hall 3, booths 166/167/178/179, at the SMX Convention Center. Offered are up to 70 percent discount on selected destinations both on air tickets and tours.
Just a recap on the early 2016 break-ups: Lovi Poe and Rocco Nacino, Jojo Oconer and Ciara Sotto, Luis Manzano and Angel Locsin, John Lloyd Cruz and Angelica Panganiban, and Bea Alonzo and Zanjoe Marudo. Hope no other couples will jump onto the "split-up-wagon."
* * *
Named one of the Power Up organization's "10 Amazing Gay Women in Showbiz," Jane Lynch stars in Angel From Hell as Amy, "a colorful, brassy woman who insinuates herself into the life of an organized and seemingly perfect young woman, Allison, claiming to be her (Allison's) 'guardian angel.'"
Lynch started acting with the Second City comedy troupe at the Steppenwolf Theater and in many church basements in the Chicago area. Her TV credits include Glee for which her role as Sue Sylvester won her an Emmy Award and a Golden Globe Award. She also won another Emmy for her role as host of Hollywood Game Night. She also appeared in such films as The Three Stooges, Alvin and the Chipmunks (in which Charice did a guest appearance) and The 40-Year-Old Virgin.
As an author, Lynch wrote the autobiography Happy Accidents which topped several national best-seller lists including The New York Times and Los Angeles Times, and also the children's book Marlene, Marlene, Queen of Mean. She was honored with a star on the Hollywood Walk of Fame in 2013. She joined the Ban Bossy campaign as a spokesperson advocating leadership roles for girls.
Excerpts of an e-mail interview with Lynch:
Entertainment ( Article MRec ), pagematch: 1, sectionmatch: 1
What do you find interesting about your role in Angel From Hell?
"What I find wonderful about Amy is that she indeed is an angel and she cares very much for Allison and wants her to have a terrific life, but she's very flawed. She loves to drink alcohol. She loves to eat sugar. She loves to overdo it in the sex department, but she has no shame around any of these things. She loves life. She loves being a human being on this planet and she wishes that Allison would experiment with all of that instead of being so pent-up and by-the-book."
Anything about Amy that you can identify with?
"Yeah. I'll tell you what, I identify with the desires for everything that tastes good and feels good but what I have that Amy doesn't have is shame. I like, shame myself for it. I'm learning a lot from Amy."
How different is Amy from characters that you've played in other TV shows and films?
"I think she's the most pure-hearted character I've played, except for maybe Constance from Party Down. She is pure-hearted. Amy embraces life like no one I think I've ever played before. No one comes to mind and that is for sure attracted me to it. She's like the song on my mind, the song that came to my mind was the Louis Armstrong one, What A Wonderful World. She could look at a tree and it could bring her to tears with laughter. She's a lover of this planet and everything it has to offer. She's unafraid, and unashamed and undeterred, and I love that about her. She has this innocence that just appeals to me."
You are an advocate for leadership roles for girls. Do you believe that women today are at par with men in various fields (politics, business, etc.)?
"Gosh, I never think like that. I kind of don't have an answer for this."
Would you say that you are an "angel" in real life?
"That's a very nice thing to say if you think I am. I think so. I think we all are. I was bringing this up the other day. Jamie Foxx, the actor, he saved a man from a burning car the other day and though I wouldn't know if Jamie Foxx thought of himself as an angel, but he sure was in that moment. I think the best of us comes out sometimes in spite of our negativity, and we do wonderful, miraculous things so I think all of us could be angels."
Do you think you're more like angel? Or are you a bit more like succor?
"I think I'm both of them, I inspire more to Amy that's for sure. Amy represents the best of who I am. I'm a fact of protective to people who I love and I think that's the goal in this life and I think for Amy in particular is that everybody is deserving of love."
Why is Amy named an angel from hell?
"I think it's a play on the dichotomy of what people think of angels. Angels are these pure heaven sent being, and Amy is anything but you know she's messy, she's sloppy, she loves being in a body, she loves being on the earth. We think of angels as being kind of celestial with acquired angels behind them, with wings that fly, usually dressed in white, and Amy is very, very earth-bound. And I think that's where the dichotomy comes in."
(Angel From Hell is airing on RTL-CBS Entertainment starting tonight at 9 o'clock. RTL-CBS is available on Destiny Cable Channel 23, SkyCable Channel 53 [SD], SkyCable Channel196 [HD], Dream Satellite Channel 17, Cablelink Channel 37 [SD] and Cablelink Channel 313 and 800 [HD].)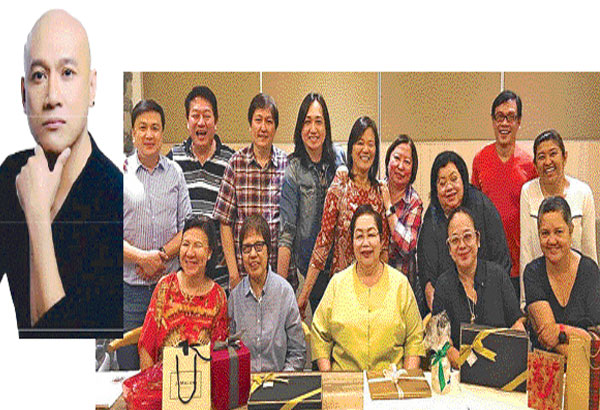 Among the PAMI members who signed the statement on the Dalin Sarmiento-director Jay Altarejos (inset) case.
PAMI statement on Altarejos-Sarmiento issue
According to STAR contributor Edgar Cruz, indie actress Dalin Sarmiento threatened to sue director/writer/producer Joselito "Jay" Altarejos for libel after Altarejos posted in his Facebook page of Oct. 9, 2015, that "Dalin Sarmiento = most unprofessional performer."
The libel case, added Edgar, has also led Sarmiento to accuse Altarejos of "verbally abusing me, hitting me, slapping me, and punching my stomach on the set of Saecula, Saecolorum (retitled TPO, Temporary Protection Order), Altarejos' official entry to the Sinag Maynila 2016 Film Festival, and also warned her against filing a criminal case against him."
Edgar described TPO, based on the script of Ricky Lee, as "both realistic and mystical in exploring domestic abuse and the attraction that binds the victim and the abuser in a cyclical violence."
PAMI (Professional Artists Managers, Inc.) has issued the following (belated) statement on the matter, signed by Ethel Ramos (chairman), June T. Rufino (president) and members Joji Dingcong, Cornelia "Angge" Lee, Bettina Aspillaga, Popoy Caritativo, Sandra Chavez, Leo Dominguez, Malou Choa-Fagar, Veana Fores, Ricky Gallardo, Dolor Guevarra, Norma Japitana, Shirley Kuan, Perry Lansigan, Carlo Orosa, Chito Roño, Manny Valera, Arnold Vegafria, Betchay Vidanes and Girlie Rodis (Dalin Sarmiento's manager who filed the complaint with PAMI).
One of our PAMI members, Girlie Rodis, has brought to our attention that she is currently representing indie actress, Dalin Sarmiento, who has shared with her that she was physically abused by Indie Director, Joselito "Jay" Altarejos, during the filming of "In Saecula Saeculorum," an official entry to Sinag Maynila 2016.
Said director slapped her, hit her in the arms several times, punched her stomach, and pulled her hair off-camera during the filming of the movie. All these were done without prior warning or permission from her. She was also subjected to verbal power-tripping on set. Moreover, Jay Altarejos went on to slander Dalin Sarmiento in public through Facebook.
As an association of managers, we strongly denounce all acts that create an unsafe environment for our talents in the workplace.
There is no place for violence and aggression in our industry. Verbal and physical abuse must never be tolerated. All members of the creative process must be treated equally and with respect. We should all rise as one and proclaim that never again must these incidents be allowed to happen.
We support Dalin Sarmiento in her quest for non-violence in any working set.
(Note: According to Edgar Cruz, Jay Altarejos has already apologized on his Facebook. "The issue started on Facebook, so Jay decided to issue an apology on his Facebook," explained Edgar.)
(E-mail reactions at entphilstar@yahoo.com. You may also send your questions to askrickylo@gmail.com. For more updates, photos and videos visit www.philstar.com/funfare or follow me on www.twitter/therealrickylo.)