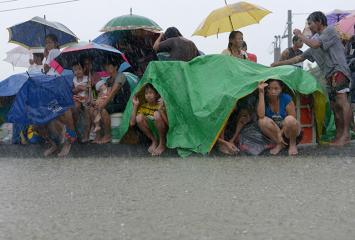 Cavite residents flee flooded homes, take shelter on street. Residents take shelter from the rain after floodwaters displaced them from their homes in Noveleta, Cavite on Monday. Local government rescue units in Cavite, now under state of calamity, appeared woefully unprepared. AFP PHOTO / Jay Directo
For many in Cavite, now under a state of calamity, the past two days have been their Ondoy.

A large swath of the province has been submerged as torrential rains have fallen since Sunday night.
The rainfall has been at record levels in some areas, particularly in Sangley Point, a part of the provincial capital of Cavite City at the peninsular northernmost point of the province.
PAGASA maintains a weather station in Sangley Point, long a naval base.
During the Habagat deluge in 2012, rainfall at Sangley Point reached 354.2 mm in the 24 hours ending 8 a.m. on August 7, 2012, according to PAGASA weather division head Robert Sawi.
In contrast, rainfall at the same location for the same period on August 20, 2013, reached 475.4 mm. This is even more than the average expected rainfall for the entire month, or 457.4 mm.
"Ibig sabihin, mas higit sa isang buwan ang naibagsak na ulan sa loob lamang ng isang araw," explained GMA News' resident meteorologist, Nathaniel "Mang Tani" Cruz. 
The rain intensity at Sangley Point surprised even DOST Secretary Ramon Montejo. 
"We were also surprised at the rain intensity in some areas, especially in Sangley, Cavite," he said.
The disaster seems far from over, as this massive monsoon rainfall is still being pulled towards Luzon by Tropical Storm Maring, which is lingering in the northern portion of the Philippine area of responsibility.
Overall not like Habagat 2012
State weather forecasters however have asserted that, as a whole, the monsoon rains this year have not been as intense as the 2012 Habagat rains.
In fact, at some other stations, "mas mababa ang rainfall na na-record compared with last year's event," Sawi said, a small consolation to the thousands who have fled their homes or been stranded in the streets.
Department of Science and Technology assistant secretary Mon Liboro agreed, saying that the rainfall is "less than the Habagat" last year.
"Understand that these are sporadic rainfall events," Liboro explained, referring to the rainfall at Sangley Point.
Montejo cited the Port Area in Manila, which experienced rainfall levels similar to—but not surpassing—the 2012 Habagat rains.
"In Port Area, Manila, (the rainfall level is) comparable with the (2012) Habagat record," Montejo said.
Mang Tani also pointed out that on 8 a.m. on August 19, 2013, PAGASA's rainfall station in the Science Garden, Quezon City, recorded 105.5 mm of rainfall versus 391.4 mm on August 7 the year before, at the height of the 2012 Habagat rains. Both measurements fall short of the 504.2 mm expected average amount of rainfall for the month.
At 10:10 a.m. Tuesday, PAGASA hoisted a "Red Rainfall Warning" over Metro Manila due heavy to torrential rains (7.5 mm/hr to as much as 30 mm/hr or more) pulled in by Tropical Storm Maring over Metro Manila, Rizal, Laguna, Cavite, Bulacan, Pampanga, Tarlac, Zambales and Bataan. 
This was later downgraded to an "Orange Rainfal Warning," signifying an improved outlook, but citizens were still warned about floods.
PAGASA expects a gradual improvement in the weather in Metro Manila starting Wednesday as the monsoon rains move north along with Maring. — TJD/HS, GMA News