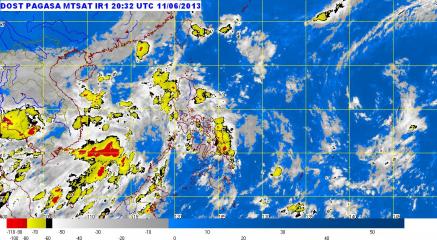 Southwest monsoon to bring rain to western side of PHL. PAGASA satellite image shows the southwest monsoon affecting the western sections of Luzon and the Visayas PAGASA
Rain from the southwest monsoon may fall over parts of Luzon and Visayas on Wednesday, even as state weather forecasters continued to monitor a potential low-pressure area off Palawan.
PAGASA forecaster Buddy Javier also said the Mindanao area may expect partly cloudy weather due to the inter-tropical convergence zone.
"Ang potential low-pressure area sa may Palawan at Mindoro (The potential low-pressure area is near Palawan and Mindoro)," Javier said in an interview on dzBB radio.
Earlier, PAGASA had said the potential LPA may bring rain but is not likely to become a cyclone.
For
Wednesday
, PAGASA said Metro Manila may expect temperatures of 25 to 33 degrees Celsius, while Angeles and Olongapo may expect temperatures of 23 to 33 degrees Celsius.
But it will still be hot in Tuguegarao City, which PAGASA said may expect temperatures of 26 to 37 degrees Celsius.
Wednesday outlook
PAGASA's 5 a.m. bulletin indicated the southwest monsoon is affecting the western sections of Luzon and Visayas.
"Luzon and Visayas will experience cloudy skies with light to moderate rain showers and thunderstorms. Mindanao will be partly cloudy to cloudy with isolated rain showers or thunderstorms," it said.
It added moderate to occasionally strong winds from the southwest to south will prevail over Luzon and its coastal waters will be moderate to occasionally rough.
Elsewhere, winds will be light to moderate coming from the southwest to west with slight to moderate seas.
June outlook
In its weather outlook for June, PAGASA said that in addition Tropical Storm Dante, one to two more cyclones may enter the Philippine area of responsibility this month.
"The weather systems that are likely to affect the country for June are the southwest monsoon, inter-tropical convergence zone, low-pressure areas, ridge of high-pressure areas and two or three tropical cyclones to enter the Philippine area of responsibility," PAGASA OIC administrator Vicente Malano said in a weather outlook dated June 5.
He added rainfall conditions may "generally near normal" this month, though some areas in Central and eastern Luzon may get above normal rainfall, while parts of northern Mindanao, Central Visayas and even Mindoro may have below normal rainfall.
However, Malano still advised the public to "take precautionary measures against floods and rain-induced landslides, particularly over the western sections of the country."
Also, the weather service said most parts of the country may expect "slightly cooler than normal" temperatures. The predicted temperature ranges for June may include:
– 22 to 35 degrees Celsius over Luzon
– 16 to 25 degrees Celsius over mountainous areas of Luzon
– 24 to 34 degrees Celsius over Visayas
– 24 to 33 degrees Celsius over Mindanao
– 18 to 30 degrees Celsius over mountainous areas of Mindanao
 — DVM/ELR, GMA News