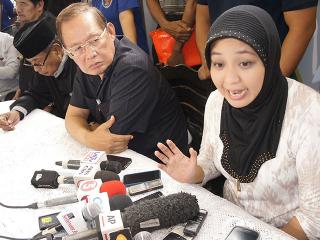 Kirams ready to face the music. Princess Jacel Kiram, daughter of Sulu Sultan Jamalul Kiram III, talks to media at a press conference in Taguig City on Monday. Together with Sultan Jamalul Kiram III and Dr. Abdurahman Amin of the Moro National Liberation Front (MNLF), Princess Jacel said the family is ready to face any charge that the government may file against them for the intrusion in Sabah. Danny Pata
Malacañang has downplayed claims from the camp of Sulu Sultan Jamalul Kiram III, whose followers were embroiled in deadly clashes with security men in Sabah three months ago while pressing their claim on the territory, that the Philippine government plans to extradite members of the clan to Malaysia.
In a press conference Monday at the Kiram's residence in Maharlika Village in Taguig City, the sultan's daughter Princess Jacel Kiram claimed that the family had received information from sources "within the government" about plans to turn in the Kirams to the Malaysian government.
In a report on GMA News TV's Balitanghali, Jacel said the extradition plan was "very close na sa implementation."
But presidential spokesperson Edwin Lacierda belittled the statement and said: "Claim lang 'yon. Wala, we have not [discussed anything like that]."
Some of the sultan's followers are currently facing criminal cases in Sabah for the incursion last February.
Meanwhile, the National Bureau of Investigation has yet to submit its report on the Sabah incursion to the Department of Justice, which will make its recommendation to President Benigno Aquino III.
A Philippine claim for sovereignty over Sabah has lain dormant for decades, but Malaysia continues to pay a minimal yearly rent to the heirs of the Sultan of Sulu, who claim to be the descendants of the original Filipino sultan who had control over the territory for centuries.
President Aquino asked for an investigation on the incursion, after expressing concerns that the move was part of efforts to sabotage the peace talks between the government and the Moro Islamic Liberation Front.
Princess Jacel said her family would welcome any criminal charges against them, and appealed to Justice Secretary Leila de Lima to inform them about the results of the government probe.
Meanwhile, the sultan made this appeal to Aquino: "Mr. President, huwag mong kalimutan na ako ay Pilipino rin … Wala pa ang Pilipinas, mayroon nang Sultanate of Sulu. Tulungan mo ang kalahi mo."
In a press briefing at the palace, Lacierda refused to make any specific comments about the Kirams' claim.
"I don't want to dignify any statement coming from the Kirams. Let's wait for an official statement from Secretary Leila de Lima, if there's any," he said. – Mark Merueñas & Patricia Denise Chiu/YA, GMA News