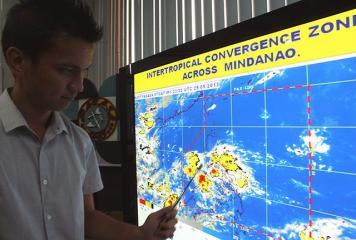 Rainy Thursday expected over most of southern Luzon. PAGASA weatherman Aldzar Aurelio on Thursday, May 30, shows a satellite image of clouds over the Philippines that could bring thunderstorms and rains to parts of Luzon, particularly the Bicol and Quezon provinces, as well as the NCR. GMA News
Metro Manila and most parts of the country may expect rain on Friday, even as state weather forecasters said Thursday they expect to announce the start of the rainy season next week.
PAGASA forecaster Jun Galang also noted a relatively cool maximum temperature in Metro Manila on Thursday, at 29.2 degrees Celsius.
"Iiral pa rin ang inter-tropical convergence zone," Galang said in an interview on dzBB radio.
But Galang said they still cannot declare the start of the rainy season this week yet because the southwest monsoon has not set in.
Temperature
On Friday
, PAGASA said Metro Manila may expect temperatures of 25 to 31 degrees Celsius, while Tuguegarao City may expect temperatures of 24 to 36 degrees Celsius.
Angeles and Olongapo Cities may expect temperatures of 23 to 32 degrees Celsius on Friday.
Friday outlook
PAGASA's 5 p.m. Thursday bulletin indicated the ITCZ is across Mindanao and may bring rain to most parts of the country.
"Central Luzon, Metro Manila, CALABARZON, MIMAROPA, Bicol Region, Visayas and Mindanao will experience cloudy skies with light to moderate rain showers and thunderstorms," it said.
It added the rest of Luzon will have partly cloudy to at times cloudy skies with isolated rain showers or thunderstorms.
Also, it said light to moderate winds blowing from the northeast to east will prevail over Luzon and coming from the southeast over the rest of the country.
The coastal waters throughout the archipelago will be slight to moderate. — TJD, GMA News