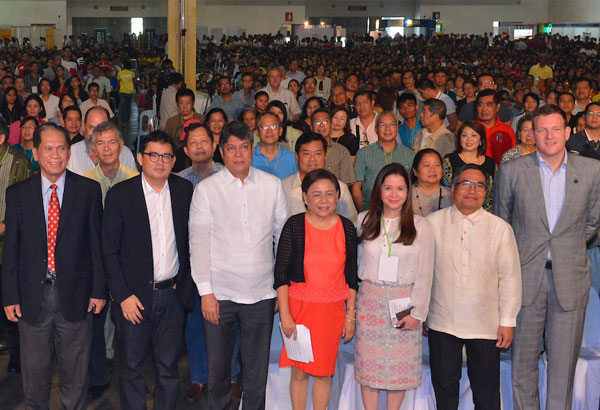 Agri-entrepreneur awardee Senen Bacani, author Joey Concepcion, Secretary Francis Pangilinan, Senator Cynthia Villar, Undersecretary Berna Romulo-Puyat, Dr. Jaime Alip and New Zealand Ambassador Reuben Levermore with the over 7,000 participants and delegates inside the World Trade Center
The first Agri-Negosyo Summit was a huge success! Over 7,000 participants showed their keen interest in this sector. The various speakers showed that there's money in agriculture, as exemplified by their respective negosyo models, and how several institutional enablers can assist them. 
Over 40 resource persons/ agripreneurs and enablers surely empowered all the participants that day.  The learnings and opportunities have been provided and it is now up to the participants to make good use of them.  The choice is ours. And, as we say, success is for those who want it most.
That is why Go Negosyo is promoting agripreneurship, because millions of Filipinos live near lands dedicated to agriculture and they should maximize it. With the Go Negosyo bill now signed into law, agri-negosyo should be a major component in the development of the economy of this country.