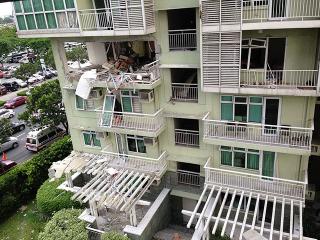 Probers looking at gas leak as cause of Two Serendra blast. In this photo taken on Sunday, June 2 and released to GMA News on Tuesday, June 4, debris litter the area surrounding Unit 501-B of Two Serendra at the Global City in Taguig. A huge blast which probers said could have been caused by a gas leak in Unit 501-B on Friday, May 31, blew away a concrete slab which landed on a delivery van, killing the driver and his two helpers. GMA News/HO
The May 31 explosion at the Two Serendra condominium complex damaged not just Unit 501-B. 
Investigators have learned that Building B of the complex sustained extensive damage from the ground floor to the eighth floor as their probe now focuses on the angle that some sort of problem in the centralized liquefied petroleum gas piping system may have caused the explosion that killed three people.
Interior Secretary Mar Roxas met with the investigators from various agencies and groups Wednesday, but he did not speak to media about what that meeting took up.
As this developed, initial information originating from the occupant of Unit 501-B indicate that the victim did not smell any gas while he was at the doorway of the condo unit when the explosion happened.
In an interview with GMA News, Atty. Raymund Fortun, legal counsel of the victim and unit occupant of 501-B Angelito San Juan, said San Juan did not smell any gas at 501-B.
Fortun said San Juan felt like he was electrocuted as he held the door knob when he heard the loud explosion. San Juan remains confined at the St. Luke's Medical Center in Taguig City where he is being treated for second degree and third degree burns.
Atty. Fortun acknowledged that San Juan's account of what happened that evening may hold information crucial to the explosion investigation.
Fortun also relayed the information that Unit 501-B was renovated over the past two months, but he pointed out that the pipings, gas lines and gas stove were not moved or adjusted in any way when the unit was converted into a two-bedroom condo.
Meanwhile, according to pictures made available by some of the probers, the May 31 explosion caused damage on all floors—causing some of the inspectors to ascertain whether the whole building is safe for residential use.
An official of the United Architects of the Philippines has suggested that the probers may need the expertise of a forensic architect to determine whether the root cause of the explosion could be found in the architectural plans of Two Serendra.
Architect Rey Gabitan, Secretary General of the UAP, said the problem may lie not in the distribution pipes to the individual units, but in the main line through which the LPG circulates.  — ELR, GMA News