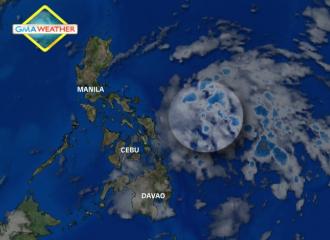 Satellite Image at 7 a.m., June 6, 2013. | Weather Central
At least two flights between Manila and Mindanao were canceled Friday afternoon due to bad weather, the Department of Transportation and Communications said.
The DOTC said
on its Twitter account
the affected flights were those of Cebu Pacific, between Manila and Cagayan de Oro City.
It said these included 5J-389 from Manila to Cagayan de Oro, and 5J-390 from Cagayan de Oro to Manila.
As this developed, state weather forecasters warned of heavy rain in several parts of Mindanao, due to a potential cyclone.
In a post on its Facebook page, PAGASA warned of heavy rain over Zamboanga del Norte, Misamis Occidental, Lanao del Norte, Davao del Norte, Misamis Oriental and portions of North Cotabato, Maguindanao, Agusan del Norte and Agusan del Sur.
"Flooding is threatening in low-lying areas,"
it said
.
PAGASA, in its 5 p.m. bulletin, also said a potential cyclone – a low-pressure area – may trigger flash floods and landslides in parts of Palawan, Western Visayas and Mindanao in the next 24 hours.
"Mindanao, Western Visayas and Palawan will experience cloudy skies with moderate to occasionally heavy rains and thunderstorms which may trigger flash floods and landslides," it said. — TJD, GMA News