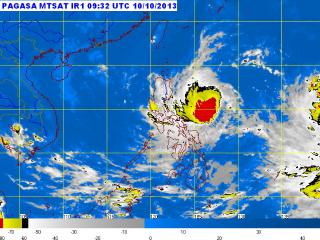 Tropical Storm Santi satellite image as of 6:00 p.m., October 10. At 4:00 PM today, the center of Tropical Storm Santi was estimated at 490 km east of Baler, Aurora (15.6ºN, 126.6ºE) with maximum winds of 95 kph near the center and gustiness of up to 120 kph. It is forecast to move west at 15 kph. PAGASA
The National Disaster Risk Reduction and Management Council went on blue alert Thursday evening for the possible effects of Tropical Storm Santi (Nari).
In its 6 p.m. update, the NDRRMC said blue alert went into effect at noon, meaning at least half its personnel should be ready to respond to contingencies at any time.
Also, it said it will continuously monitor and disseminate weather bulletins and weather forecasts to disaster management councils at the local level.
For its part, the Coast Guard advised watercraft plying Catanduanes routes to suspend their operations, even as its units in Catanduanes and Albay are on heightened alert.
The Department of Social Welfare and Development prepositioned P104.59 million in emergency relief resources.
Death toll from ITCZ rises to 13
Meanwhile, the NDRRMC said the death toll from the heavy rain from the inter-tropical convergence zone rose to 13 Thursday.
In its Thursday update, the NDRRMC said the latest fatalities included Ruel Patrociño, 17, of Tumaga in Zamboanga City; and Rose Flores, 38, of Mangusu Vitali in Zamboanga.
Patrociño died from drowning while Flores was electrocuted, it said.
The NDRRMC also said the ITCZ rain had affected 31,223 families or 138,195 people in 150 villages in 16 towns and nine cities in 10 provinces.
Of these, 5,912 families or 26,828 people are in 46 evacuation centers. — BM, GMA News